Bombardier Business Aircraft opensof its new service centre located at London Biggin Hill Airport, UK. With an installed base of more than 600 Bombardier business jets in Europe, the new service centre in Biggin Hill is well positioned to provide world-class heavy maintenance and support services to Bombardier customers and operators in the region. The inauguration was held in the presence of His Royal Highness Prince Michael of Kent, patron of the British Business and General Aviation Association (BBGA), as well as other distinguished guests.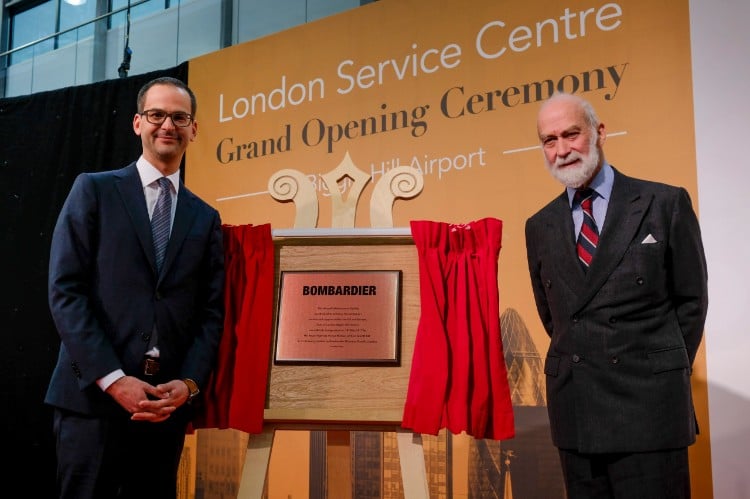 The new 4,790 sq. metre (51,541 sq. feet) facility received certification from the Civil Aviation Authority of the United Kingdom for maintenance of Learjet 70 and Learjet 75, Challenger 300, Challenger 350, Challenger 600 series, Global 5000 and Global 6000 aircraft in March 2017. It is fully equipped to perform scheduled and unscheduled maintenance, as well as modifications and avionics installations for Bombardier Learjet, Challenger and Global aircraft.
Located at one of the highest altitudes within London's M25 ring road, the airport on Biggin Hill is so well positioned that it was chosen as the strategic base for the Royal Air Force (RAF) during World War II. Today, Biggin Hill Airport's proximity to London, a main business aviation destination for Europe, has transformed the airfield into a central hub for charter operations in the industry.
As the Bombardier Business Aircraft fleet continues to grow, so does its award-winning service centre network with additional Customer Response Team trucks in the U.S., additional line stations in Europe and new service centre facilities in Tianjin, China and now in Biggin Hill, London. The network is equipped to support Learjet, Challenger and Global business aircraft and is connected to Bombardier Business Aircraft's 24/7 Customer Response Centre and world-class Customer Support Team.