Air Serbia has started to retrofit its narrow-body Airbus fleet with the highly-acclaimed Recaro BL3520 seats. In total, ten Airbus A319 and A320 aircraft will be reconfigured with the award-winning product as part of a business adjustment to strengthen the airline's European network.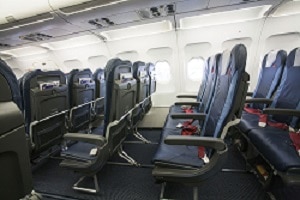 The slimmer seats are lightweight and designed to take less space, enabling Air Serbia to install additional rows of seats, while improving the overall living space and comfort for guests.
With the cabin refurbishment, seat capacity on the A319 aircraft will increase from 128 to 144 seats and on the A320s from 155 to 174 seats, growing by more than 12 per cent in total across the narrow-body fleet.
The new seats will be installed in both the Business and Economy classes and the first A319 aircraft, registered YU-APJ, is currently being retrofitted.
Air Serbia will be installing 1,500 Recaro seats in total over the next coming weeks.
Despite the capacity increase, the seats offer guests more living space by having a leaner backrest and a higher literature pocket. Normally placed in the knee area, the pocket has been placed above the tray table, ensuring more legroom.
The new Recaro seats will also be installed in Business Class on the narrow-body fleet, which will seat two guests in each aisle compared to three in Economy, with the middle seat kept empty for extra space.
The Business Class will be separated from Economy Class by a movable class divider, enabling Air Serbia to adapt the number of seats according to travel demand. Up to 12 seats will now be available in Business Class depending on the seating configuration.
Guests travelling in business class on the Airbus A319 and A320 fleet will continue to enjoy the same excellent level of service, including a Dine Anytime menu with a selection of à la carte meals and an iPad loaded with films, TV shows and music.
Travellers in both classes will also be able to access the internet through the inflight Wi-Fly service and stream entertainment to their smartphones and tablets for free through Elevate Play, which is available for Android and Apple devices.
Along with the new seats, the A319 and A320 cabin change includes new carpets, curtains and floor path markings to match the onboard décor on the airline's Airbus A330 which currently serves New York.
The airline will continue to offer its flagship long-haul product on transatlantic flights to the US, which offer 18 lie-flat seats in business and 236 seats in economy class.