The World Tourism Organisation (UNWTO) has announced this week that Spain has once again topped the list of countries with the most Blue Flag beaches in the world for the 30th consecutive year.
Spain boasts 684 Blue Flag awards including 579 Spanish beaches, 100 marina resorts and 5 newly awarded sustainable tourist boat operators. The prestigious Blue Flag is recognised worldwide as a sign of excellence of life-saving facilities, first-rate water quality, accessibility and information about the surrounding nature of the award-winning beach.
On a global scale, one of every six Blue Flag beaches throughout the world is on Spanish soil.
From crystal-clear waters, coves, cliffs and broad stretches of fine sand, the Spanish coastline has something for everyone – from families to extreme sports enthusiasts.
Holidaymakers heading to the Valencia region, which has the highest number of Blue Flags (129) this year, can choose between wide city beaches such as Malvarrosa, windswept sand dunes at El Saler, the rugged coastline around Javea and the unusual white pebble beach of Montcofa which give the sea a distinctive milky turquoise hue.
There is even an inland beach that has been awarded the Blue Flag. "Orellana Beach", also known as Costa Dulce Beach, is on the banks of the Orellana Reservoir in the landlocked region of Extremadura and is great for watersports.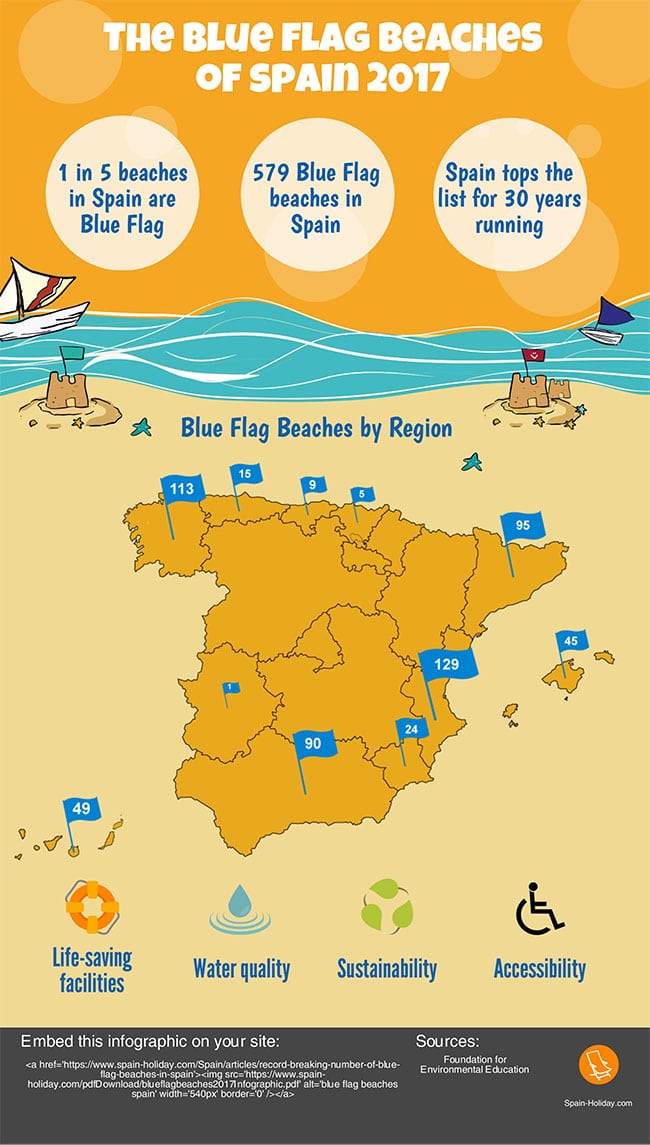 Jannich Petersen, CEO of Spain-Holiday.com commented on the news:
"2016 was a record-breaking year for Spain tourism, with over 75 million international visitors and beach holidays destinations are in more demand than ever. Last year, Spain-Holiday.com reached 48.9 million web visitors looking for beach holiday rentals in 2016 and we anticipate to smash that figure in 2017."
"Spain has won the most Blue Flag awards year in year out for past 30 years. The prestigious accolade is awarded for more than just naturally beauty – it also takes into consideration water quality, accessibility and sustainability. The Blue Flag awards are a great indicator of how the coastal towns and regions of Spain are committed to preserving the 8,000 km of coastline"