Middle East Airlines (ME) and Turkish Airlines (TK) signed today a codeshare agreement. The agreement will be effective as of May 15th, covering routes between Turkey and Lebanon, and expanding the travel opportunities for the passengers of both airlines.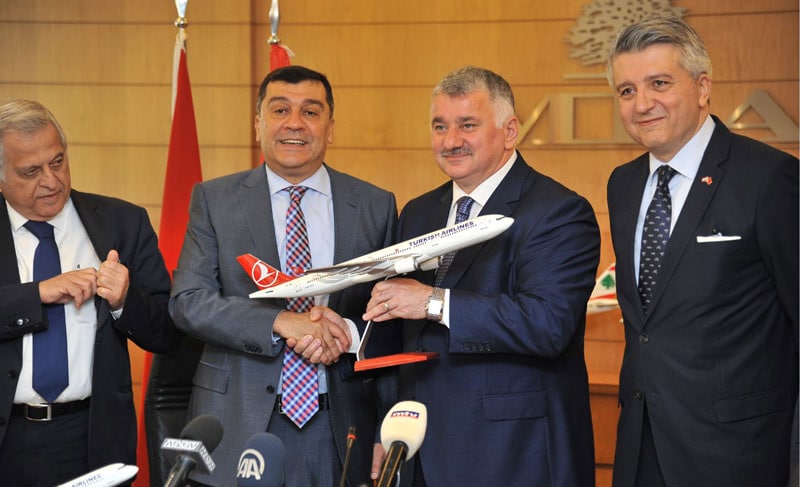 The signing ceremony took place at MEA Head Quarters in Beirut. Middle East Airlines Chairman and Director General, Mohamad A. El-Hout and Turkish Airlines' Deputy Chairman and CEO, Bilal Ekşi signed the agreement in the presence of senior officials from both sides.
This new codeshare agreement will broaden the commercial partnership between the two companies and their respective countries. At the same time, passengers of both airlines will be given more travel options between Lebanon and Turkey.
Under the terms of the agreement, Middle East Airlines and Turkish Airlines will place their codes on the flights of Middle East Airlines on Beirut – Istanbul v.v. and on the flights of Turkish Airlines on Istanbul – Beirut v.v. route. Turkish Airlines will operate three daily flights on Istanbul-Beirut-Istanbul route, while MEA will be operating 2 daily flights Beirut – Istanbul –Beirut route.
MEA Chairman, Mohamad A. El-Hout expressed the importance of this agreement, as being a step in stimulating the economic cooperation between Lebanon and Turkey, and will enable both airlines to further accommodate the needs of their loyal passengers. It is worth highlighting that this agreement is signed between two members of two different airline alliances, which prove the ability of both airlines to expand their networks to the cities not served by their aircrafts.
Turkish Airlines' Deputy Chairman and CEO, Bilal Ekşi said that; "We are pleased to sign this codeshare agreement with Middle East Airlines and aim to improve our partnership to maximize the travel opportunities offered to our passengers through our flight networks. Moreover, we believe that this partnership with Middle East Airlines will not only maximize the travel opportunities offered to our passengers through the networks of both airlines but also bring enormous benefit from a commercial perspective." Mr. Ekşi also stressed that travelers of both airlines will experience a streamlined level of services covered by the agreement onboard two modern fleets of aircraft and he expressed his hope that this step will be the first on the way to further enhancing relations between two airlines in the future.