There's a sleek new outpost in Reykjavik in its soft-opening phase, ready to welcome explorers of Iceland's vast beauty. Embodying the spirit of adventurous travel and cool Nordic design that dwells in its sister property Ion Adventure Hotel, the 18-room Ion City Hotel is the citified version of the original award-winning countryside retreat. Here, the same respect for Icelandic aesthetics and sourcing is evidenced, yet a melding with top international design firms means the city's increasingly cosmopolitan nature is aptly-reflected. Located on the city's main avenue Laugarvegur, Ion City's deep local ties to its neighboring cafés, bars, restaurants, and galleries make it the perfect portal from which to explore the urban side of this fascinating destination.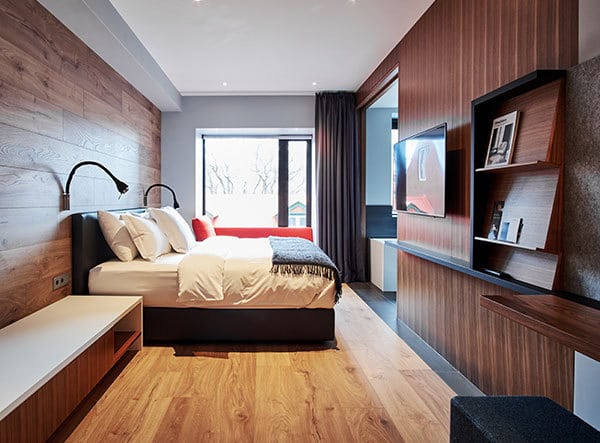 Housed in a smartly renovated building that retains its original architectural beauty, the façade has been playfully augmented by exterior walls that feature a motif inspired by traditional Icelandic weaving. Minarc, the same architecture and design duo responsible for Ion Adventure Hotel's photogenic transformation, were tasked with the project.
The 18 rooms and suites range from the 20-square-meter Classic room to the 75-square-meter Panorama Suite, and all feature Bluetooth speakers. While the 20-square-meter Standard room and the 26-square-meter Deluxe room play host to a window-side sofa, the 30-square-meter Junior Suite boasts a balcony with a private sauna. The 44-square-meter City Suite features a French balcony, a private indoor sauna, and a living room with a dining table, while the Panorama Suite includes an indoor sauna, a powder room with a table and chair, a guest bathroom adjoining the living room, a dining table, and a bar area, with the option of a bartender or chef on request.