Scotland's only direct air link from Glasgow to the Isle of Man has been restored thanks to Eastern Airways launching its new service this week.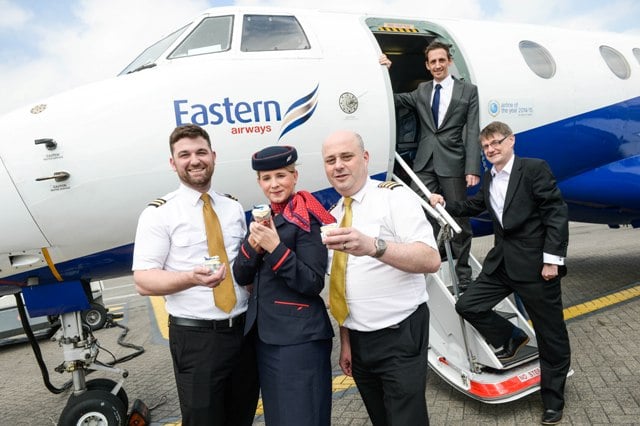 The UK regional airline announced back in March that it would be securing the future of Scotland's Isle of Man link from Glasgow, following the liquidation of Citywing. The carrier also re-established the island's routes to Northern Ireland (Belfast City) and North East England (Newcastle).
A 29-seat Jetstream 41 aircraft operates the daily weekday services, and complimentary drinks are provided on board the flights.
Monday to Thursday flights leave Glasgow at 2.50pm arriving in the Isle of Man at 3.40pm. Services from the Isle of Man depart at 1.30pm, landing in Glasgow at 2.20pm.
Friday services depart Glasgow at 9.35am, arriving in the Isle of Man at 10.45am. Flights leave the Isle of Man at 8.15am, landing in Glasgow at 9.05am.
The popular Isle of Man TT races, takes place over the fortnight period from Friday 26 May to Monday 12 June 2017. The airline has introduced Saturday and Sunday flights from Glasgow specifically during that period, and although some of the flights are already full, there are still seats on sale.
Fares start from £59 one way, including taxes and charges and are bookable via www.easternairways.com , calling Eastern Airways on 08703 669100 or through your travel agent.
Mathew Herzberg, Head of Commercial for Eastern Airways, said: "We are pleased to back in Glasgow to re-establish this vital route directly linking Scotland with the Isle of Man again. This week's launch also coincides with the Celtic Media Festival, which is hosted on the Isle of Man this year. Flights over the TT period are busy with some already full, but there are still some seats available for motorsport and TT enthusiasts who haven't yet confirmed their travel plans."
Paul White, Glasgow Airport's Business Development Manager, said: "The Isle of Man has always been a popular destination and we are delighted that Eastern Airways acted so swiftly to reinstate such an important business and tourism link. Bookings are already proving strong, which isn't surprising considering the strong links between the Scottish and Manx economies. We are looking forward to working closely with Eastern Airways to ensure its success at Glasgow Airport."
Passengers flying with Eastern Airways are not charged for check-in, baggage or choice of seat. Hold baggage allowance is 15kg per person and hand luggage allowance is 10kg per person. Those with fully flexible tickets are entitled to 2x 23kg hold bags. Check-in opens 90 minutes before the flight, and closes just 30 minutes before departure.
Eastern Airways has been flying for over 19 years, and previously operated scheduled services from Glasgow Airport between 2011 and 2013. Its fleet consists of two Embraer 170 and three Embraer 145 jets, along with nine Saab 2000s and is the largest operator in the world of Jetstream 41 aircraft with 17.