The Darcy hotel located just six blocks from the White House and around the corner from the trendy 14th Street corridor is the newest member of the exclusive Curio Collection by HiltonTM.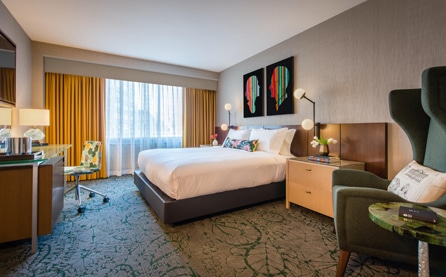 The Darcy Washington D.C., Curio Collection by Hilton, joins the rapidly-growing collection brand of locally authentic hotels as its first property in the nation's capital. The Darcy is a short walk from four Metro stations and D.C.'s noted landmarks and monuments.
The Darcy Washington D.C.'s contemporary and sophisticated design – led by Lead Designer Christian Schnyder, owner and principal of the prestigious Beleco Designs in Los Angeles – is inspired by the American Beauty Rose, the city's official flower. Its look intersperses European-inspired elements of mixed wood with distressed metals and bright colors, creating a high-end yet energetic, edgy vibe reflective of the dignified architecture and trendy restaurants that neighbor the hotel.
Visitors are drawn to the singular lobby, which has been fashioned to approximate a handsomely restored yet purposeful living room, with such classic architectural touches as rose carvings on wooden archways, honeycomb-panel flooring, black-painted exposed brick and patterned wallpaper. Displayed throughout the hotel's 226 guest rooms and public spaces are numerous contemporary artworks – ranging from botanical photographs to abstract sculptures and prints – that pay homage to Washington's rich history.
Hotel Highlights
Alluring Cuisine
A Siren's Song: Siren features a distinctive menu from acclaimed chefs Robert Wiedmaier, Brian McBride and chef de cuisine, John Critchley, with a focus on seafood reeled in from the world's waterways. This includes everything from Alaskan King Crab and White Ivory Salmon, to delicate Sea Urchin from Japan, to the succulent fish and crustaceans found in the North Sea. The seasonally grounded menu drives the culinary team to source many of its locally available ingredients from nearby, whenever possible. The dining experience is enhanced by live jazz; a blue/gray interior with a sleek, zinc counter surrounding the "raw" bar and an outdoor dining area.
Funky Fresh: Lil' B Coffee & Eatery is a street-level hangout serving a Southern inspired menu from celebrity chef David Guas. Fresh baked goods and sweets, signature casual eats, and loaded, seasonal sandwiches that give a nod to his native city of New Orleans are complemented by hand-crafted coffee drinks and a range of locally brewed beers, meads and wines.With its semi-industrial design, exposed brick and handcrafted wood tables and counters, the corner spot is both comfortable and cool.
Signature Services & Amenities
Cocktails Galore: Each night in the lobby, The Darcy hosts its guests for complimentary cocktails, featuring its signature drink with area favorites, Green Hat Gin and Element [Shrub]: The Darcy Double. The hotel also offers a traveling Cocktail Cart, with mixologist, for custom-mixed in-room cocktails.
Haberdashery: Guests may purchase or borrow cufflinks, tie clips and pocket squares provided by Read Wall, a DC-based American-tailored men's clothier.
Darcy Kids: Adventurous young guests may check out a locally-themed backpack designed to hold their attention during family treks about the city. Complimentary scooters and bicycles are also available.
Pop-Up Flower Bar: In a nod to Washington's many gardens and parks, The Darcy will host a bi-monthly flower bar through a partnership with local start-up UrbanStems to invite guests to build their own bouquets and locals to pick up fresh flowers.
Meetings & Events, Intimate or Grand
Flexible Meeting Space: Named after prominent D.C. area artists, socialites and activists, five meeting, breakout and board rooms bathed in natural light can accommodate gatherings for up to 80 seated or 100 standings guests.
Logan Ballroom: For events on a grander scale, Logan Ballroom is a sophisticated backdrop for up to 200 guests. An enchanting outdoor patio is also available.
To receive instant access to the benefits they care about most – including exclusive discounts, free Wi-Fi, Digital Check-In and Hilton Honors Points towards free nights – guests are encouraged to join Hilton Honors and book directly through preferred Hilton channels.
The Darcy Washington D.C., Curio Collection by Hilton, is owned by KHP Capital Partners and managed by Sage Hospitality.