A Porsche Cayenne has successfully towed an Air France Airbus A380 weighing 285-tonnes. The Cayenne, driven by Porsche GB technician Richard Payne, towed the aircraft over a distance of 42-metres at the Air France H6 maintenance hangar at Paris Charles de Gaulle Airport, improving on the previous Guinness World Record title of 115-tonnes.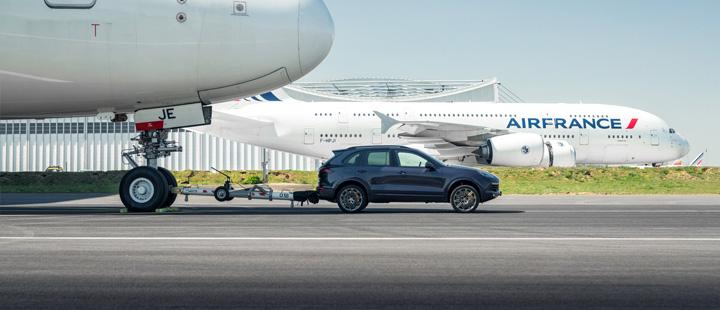 Air France devoted its state-of-the-art H6 engineering hangar and one of its fleet of 10 Airbus A380 aircraft to the project. The 60,000 square metre hangar, specially designed to house the Air France Airbus A380, is usually home to all the engineering and maintenance activity for the Air France fleet. The contrast between the two machines was striking. The Porsche Cayenne (4.8 metres in length) was connected to the largest passenger aircraft in the world, the Airbus A380 (73 metres in lenght) via a special towing attachment that sat on the Cayenne's standard tow bar.
The Guinness World Records title was set by a Cayenne S Diesel, producing 385 hp and 850 Nm of torque. The exercise was then repeated using a Porsche Cayenne Turbo S.