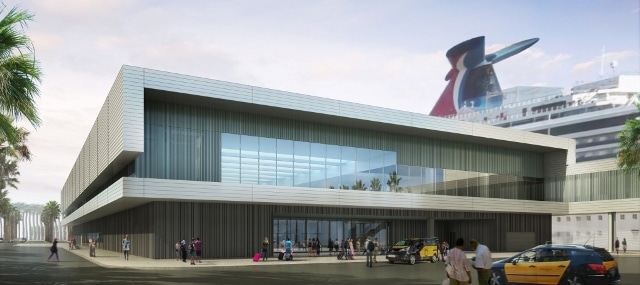 Carnival Corporation today released artist renderings of its second cruise terminal at the Port of Barcelona – which will be Europe's newest passenger cruise terminal when it opens in 2018. The terminal is designed to accommodate Carnival Corporation's new class of "next-generation" green cruise ships that will be fully operated by Liquefied Natural Gas (LNG), the world's cleanest burning fossil fuel.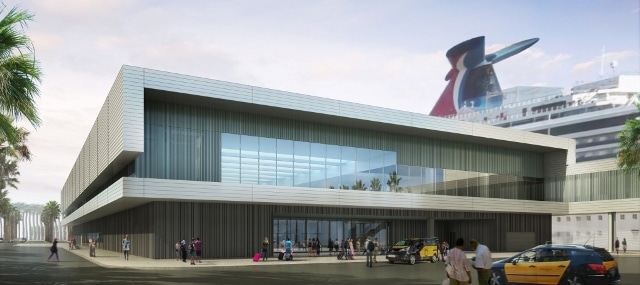 As part of an agreement signed in July 2015, Carnival Corporation will construct and operate the new 12,500 square meter terminal. The company is investing more than 30 million euros in the state-of-the-art terminal, which paired with its existing terminal at the port represents its largest combined terminal investment in Europe.
Designed by Catalan architecture firm Battle I Roig, the plans for the company's upcoming cruise terminal reflect today's modern architectural style with straight lines and a minimalist concept that will create a contemporary and comfortable guest environment.
Construction on the project officially began in July 2016, and once complete it will enhance the embarkation and disembarkation process for cruise guests visiting Catalonia and its surrounding areas on one of Carnival Corporation's ships.
The new terminal, on the port's Adossat wharf, will increase Carnival Corporation's passenger capacity at the port, which is used by eight of the company's 10 global cruise line brands as both a destination and home port. Carnival Corporation is expecting to accommodate over one million passengers at the Port of Barcelona once its second cruise terminal is open in 2018.
Beginning April 2018, the terminal facilities will host inaugural sailings of Carnival Horizon, Carnival Cruise Line's newest ship, which includes attractions such as SkyRide, IMAX Theatre and Water Works, as well as Aida Cruises' newest ship AIDAperla featuring attractions such as the Beach Club under a UV-permeable dome and an above-water skywalk. AIDAperla is one of the world's first cruise ships to feature dual-fuel engines, which, depending on availability at the port, can also be operated with virtually zero-emission liquefied natural gas (LNG).
Carnival Corporation's Collaboration with the Port of Barcelona
Carnival Corporation's deployment of LNG-fueled ships to the port supports the pioneering Air Quality Improvement Plan proposed by the Port of Barcelona in November 2016 to effectively reduce emissions from port activities. In total, Carnival Corporation now has agreements in place to build seven fully LNG-powered cruise ships across four of its 10 global cruise brands in coming years.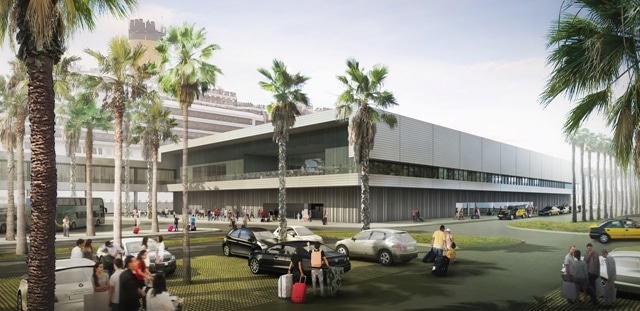 The construction of Carnival Corporation's second cruise terminal at the Port of Barcelona will secure employment for up to 150 people through its work with local contractor companies Vopi 4 S.A., Elecnor S.A., Project Facilities Management SL and their subcontractors as well as gangway manufacturer Adelte S.A. and the existing team of local architect and engineering firms Battle I Roig, Static Engineering and PGI Engineering.
The Port of Barcelona was recognized as the best global turnaround port by Cruise Insight – a distinction it has received several times in recent years. More than half of cruise passengers visiting the Port of Barcelona begin and end their journey there, which is a major economic benefit for Catalonia and the city. According to a study from the University of Barcelona, passengers who begin or end their cruise vacation in Barcelona on average spend 2.6 days in the city before or after their trip and spend around 202 euros per day.
According to than actualized study for 2016, cruise activity at the Port of Barcelona generates an annual turnover of 875 million euros in Barcelona, contributing 457 million euros to the GDP of Barcelona. The study also shows that cruise activity at the port generates 7,518 jobs and has other positive effects on the local economy such as the increase of activity at Aeroport del Prat. The company's positive economic impact will increase when Carnival Corporation's new terminal is launched in 2018.