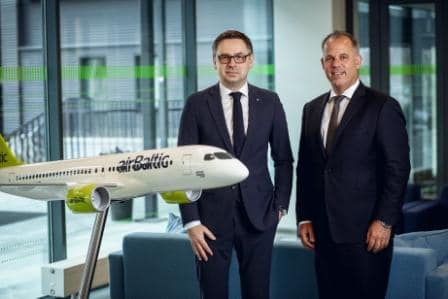 The Latvian airline airBaltic and Tez Tour Latvija have jointly launched the world's first charter flights with Bombardier CS300 aircraft. For the summer season, charter flights will connect Riga with Antalya (Turkey), Heraklion (Greece), Burgas (Bulgaria) and Rimini (Italy). airBaltic will fly several times a week to these sunny destinations.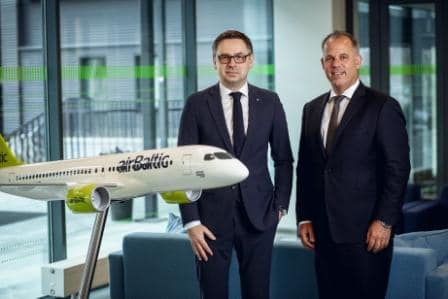 Konstantins Palgovs, General Manager of Tez Tour Latvija: "This summer season 2017 we have planned more than 200 flights from Riga to Italy, Greece, Turkey and Bulgaria with the modern Bombardier CS300 aircraft. All our charter flights will be operated with the latest and most comfortable airBaltic aircraft. I have flown with it several times, and as the passenger I can assure that the spacious interior, comfortable seats and improved seat pitch, as well as the mood lights and monitors with the route information, makes the flight more pleasant. We have chosen the CS300 also because it boasts lower fuel consumption, which, in comparison with other this type aircraft, is substantially lower. This means that the final price for the journey will be more competitive. In particular, it will manifest in long distance flights."
Martin Gauss, Chief Executive Officer of airBaltic: "Thanks to Tez Tour Latvija and airBaltic long-standing and successful cooperation, people from the Baltic States can take advantage of many more direct charter flights from Riga to sunny holiday destinations."
As informed prevously, this year, airBaltic has added Abu Dhabi (U.A.E), Geneva (Switzerland), Aberdeen (United Kingdom), Stavanger (Norway), Gothenburg (Sweden), Tampere (Finland), Catania (Italy), Madrid (Spain), Odessa (Ukraine), Kazan (Russia) and Liepaja (Latvia) to the network of cities served from Riga, and have introduced two new routes from Vilnius to Paris (France) and Munich (Germany).