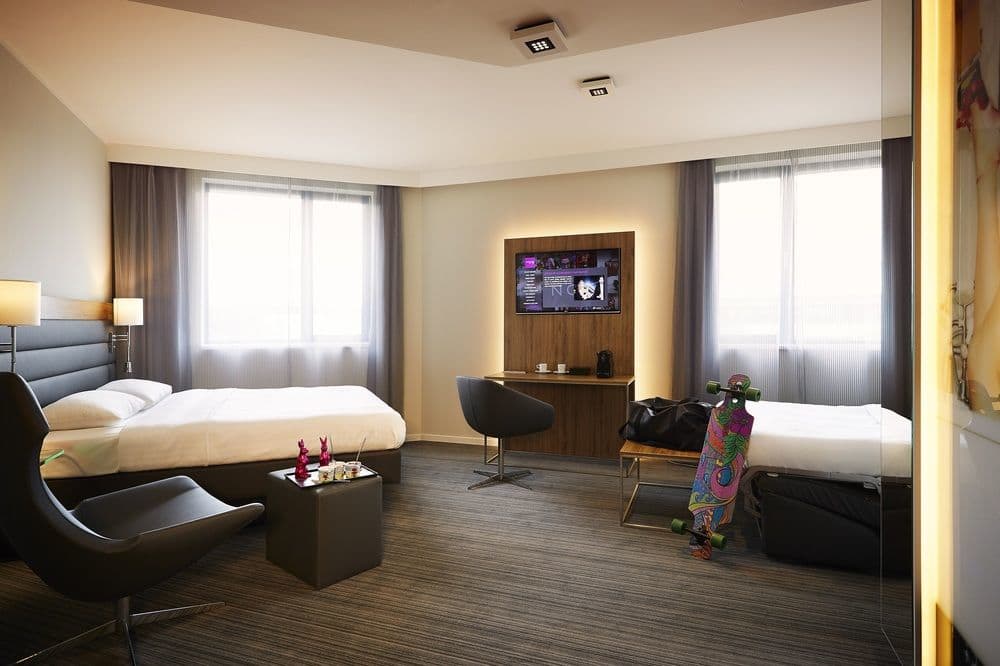 Moxy Hotels continues to expand in Europe with the launch of Moxy Frankfurt Airport, the brand's fourth hotel in Germany. Characterised by a vibrant, playful design and an energetic crew, Moxy Frankfurt Airport offers a new way of travelling, with communal and spirited experiences at a surprisingly affordable price. Moxy Frankfurt Airport is the brand's tenth global outpost joining a fast-growing portfolio of destinations including Munich, Milan, Berlin, New Orleans, London and Vienna.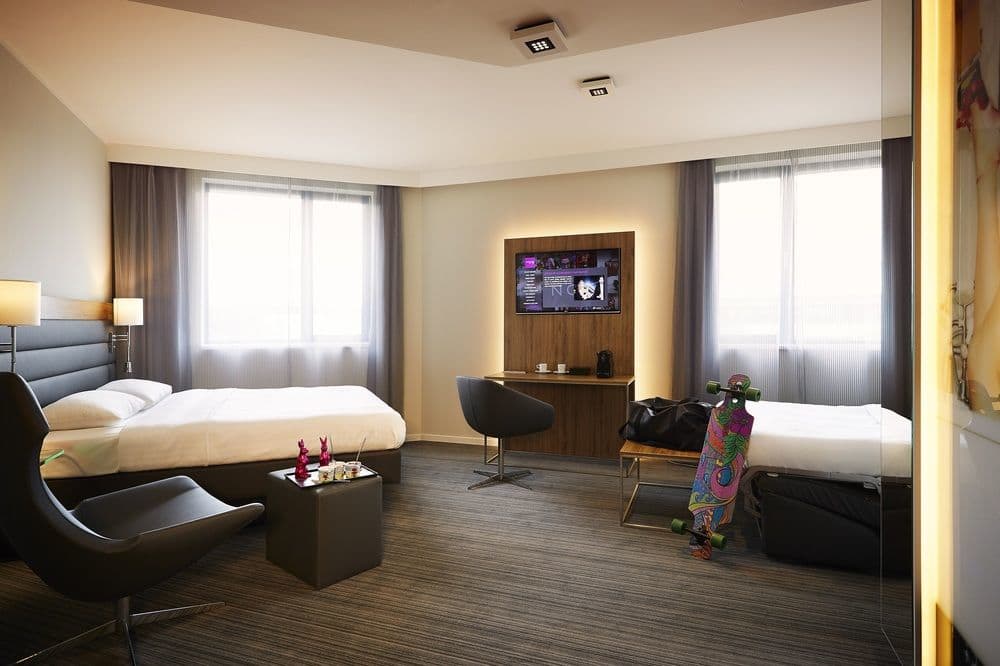 From photo booth elevators, to communal ironing rooms, to bedtime stories to checking in at the bar…every part of Moxy shakes up the traditional hotel experience," said Vicki Poulos, senior global brand director, Moxy Hotels. "Our Fun Hunter guests seek connections and experiences when they travel and want to feel inspired by their local surroundings. Moxy provides them with a fun hotel experience that enables just that, without the exorbitant price tag."
Conveniently located at Frankfurt airport, just 15km from the city centre, Moxy Frankfurt Airport provides the perfect gateway to explore the culture and architecture in one of Germany's largest cities. In true Moxy fashion, Moxy Frankfurt Airport will be a 24/7 spot for all things fun and impromptu with playful communal spaces, a buzzing bar and thoughtfully crafted offerings designed for travellers and locals who want to hang-out with their friends and meet new ones, without breaking the bank.
The hotel's 305 contemporary guest rooms, ranging from standard to family size, are outfitted with sound-reducing walls, 42″ LCD flat screen televisions, complimentary super-fast Wi-Fi, abundant USB ports, comfortable bedding and deep-seated armchairs in calming, neutral fabrics. Every bedroom makes a statement with a fun floor to ceiling art piece. The design is functional, flexible and uncluttered with simple, thoughtful touches including glass shelving and an open storage concept featuring a peg wall for ultimate flexibility when unpacking, in lieu of a traditional closet. Stylish bathrooms feature complimentary Muk toiletries, bright pink hair dryers, power showers and large mirrors alongside a spacious vanity area.
Moxy's 24/7 B&F (Beverage & Food), smart and fun self-service concept gives guests access to what they want, whenever they want it. The Moxy dining area offers lots of options for food and drink including fresh juices and a coffee bar. Guests can enjoy fresh Panini sandwiches and a range of healthy alternatives from salad to antipasti. An evening Crockpot entrée will be served along with a variety of cocktails, craft beers and specialty wines. The bar is full-service and the hub of activity in the lobby – it also doubles as the hotel's physical check-in, where guests are greeted with a complimentary 'Got Moxy' cocktail upon arrival.
Moxy Frankfurt Airport's Living Room is the centre of activity, offering guests fun ways to work and play hard. Sealed concrete floors, walls lined with intriguing art and fun references to local culture including artistic beer jugs displayed on the walls are complemented by ambient lighting and comfortable accents of colour. The Living Room also features abundant power and USB outlets, and furiously fast and free Wi-Fi for ultimate connectivity. A high-energy yet cosy space for gatherings, special events or cocktails, the lounge plays host to eclectic upbeat music.