Dusit International is set to expand its global footprint once again with the opening of DusitPrincess Dhaka, the company's first property in Bangladesh, under a long-term arrangement with a subsidiary of Lakeshore Hotels Limited.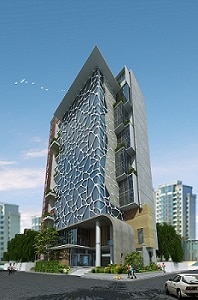 As the capital and largest city of Bangladesh, now the second-fastest growing economy in the world, Dhaka is home to thousands of businesses and has one of the largest concentrations of multinational companies in South Asia.
Located in the north of the city, only five minutes by car from Hazrat Shahjalal International Airport, the upper-midscale business hotel will open under Dusit's newly developed franchising model, which has been designed to give owners maximum returns while operating under a global brand.
The hotel will comprise 80 stylish guest rooms and 10 well-appointed suites set over 13 storeys. All rooms will feature a modern yet comfortable design, while facilities will include an all-day-dining restaurant, a Grab 'n' Go outlet, a meeting room, and recreational amenities such as a rooftop swimming pool.
Providing easy access to travel routes that avoid the city's heavy traffic, and located only a short drive from major manufacturing sites and other key commercial districts, DusitPrincess Dhaka will be perfectly positioned to meet the needs of business travellers from all corners of the globe.
"DusitPrincess Dhaka presents us with a fantastic opportunity to showcase our new franchise model in a robust hotel market," said Mr Lim Boon Kwee, Chief Operating Officer of Dusit International. "Dynamic partnerships such as this are vital to Dusit's sustainable and profitable growth worldwide, and we are delighted that Lakeshore Hotels Limited will be flying the flag for our distinctive brand of gracious hospitality in this fast-growing, vibrant economy."
Mr Kazi Tareq Shams, Managing Director of Lakeshore Hotels Limited, said, "We have been in this industry for over 15 years now and already operate two successful upper-midscale hotels in Dhaka under the Lakeshore name, so we know this market well. Our capacity to supervise hotel operations has grown significantly in recent years and we are pleased Dusit has recognized those capacities on our side. To operate our upcoming hotel under the renowned DusitPrincess brand is a real honour, and we have every confidence it will be a resounding success."
Dusit International currently operates 29 properties in key destinations around the globe with a further 51 projects already confirmed to open within the next three years. Alongside DusitPrincess, other brands in the company's international portfolio include Dusit Thani, dusitD2, and Dusit Devarana.
DusitPrincess Dhaka is slated to open at the end of 2017.