The Ranch, the healthy lifestyle company with two acclaimed results-oriented fitness and wellness retreats, is pleased to announce the introduction of three custom group experiences, to be offered at The Ranch 4.0 at Four Seasons Hotel Westlake Village. These new packages incorporate the core elements of The Ranch's signature program – hiking, rest, strength conditioning, massages, and yoga – with custom programing to suit a group's individual needs. With three base programs to choose from, including Leading & Clean Eating, C-Suite Retreat, and Strength in Numbers, corporate and leisure groups can further personalize their daily schedule for a one-of-a-kind experience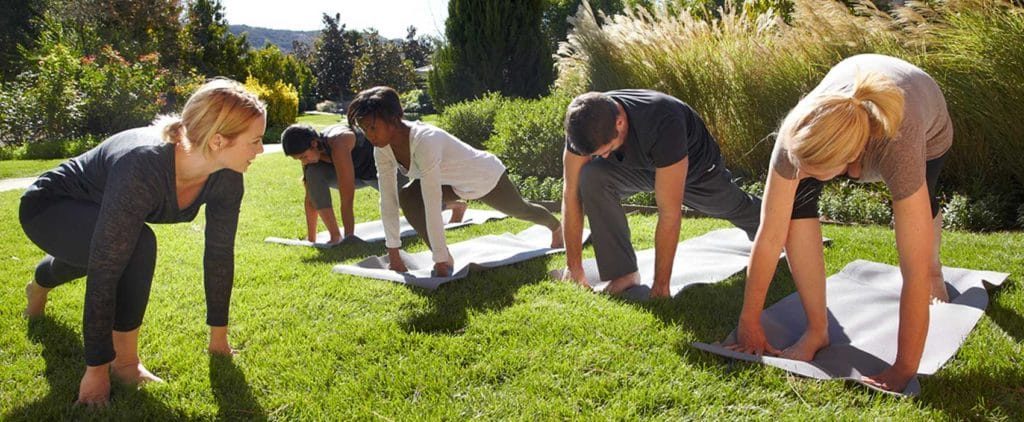 "I believe we have seen a marked interest in The Ranch 4.0 from corporate and private groups because we offer a unique experience that naturally lends itself to teambuilding, camaraderie and mental and physical detoxification." said Alex Glasscock, CEO and Founder of The Ranch Malibu. "We designed three custom group packages with the intention of promoting a healthy and balanced lifestyle on an individual level, along with supporting a positive group dynamic both during and after the program."
The Ranch currently works with corporate and leisure groups to create custom programing and is expanding this business with these formal packages to further streamline the planning process for a virtually turnkey stay. Utilizing The Ranch's philosophy on healthy and balanced living as a foundation, the company developed three distinct packages based off trends they have observed while working with groups. Carefully designed to not only promote wellness and health, but also to build strong relationships between employees and their employer, each package focuses on a specific aspect of The Ranch's esteemed programs, including culinary, medical/health-minded, and group bonding and fitness-focused packages. Packages are based off a three day, Monday – Thursday stay and can also be adjusted for leisure groups based on interest.
With Leading & Clean Eating, guests have the opportunity to explore the signature plant-based cuisine with Ranch 4.0 Chef Meredith Haaz. Chef Haaz will lead guests on a culinary adventure with the daily activities including cooking demonstrations and a field trip to The Ranch Malibu's certified organic garden.
Corporate groups looking to create a more comprehensive medical experience can opt for the C-Suite Retreat, which combines the in-depth medical testing from California Health & Longevity Institute (CHLI) and elements of The Ranch's fitness programming with their own breakout sessions. Through these comprehensive tests, employees can gain a better sense of their personal health and medical well-being and work towards creating balance in their everyday life.
Strength in Numbers offers a fitness-oriented approach, including daily mountain hikes and group afternoon fitness classes aimed at strengthening the body and clearing the mind. employees will engage in physical challenges, allowing them to strengthen their bodies as well as their relationships with their coworkers in a program that encourages camaraderie, empathy, and teamwork.
These packages can also be used as a starting point for groups, with the option to tailor the programs to their needs. A member from The Ranch staff will work directly with each group to adhere to their specific requests and ensure their needs are met throughout their stay.
Each package features a three-day stay at The Four Season at Westlake Village, a daily diet of fresh vegetarian fare, and the core elements of The Ranch's signature program, which includes daily hikes, fitness classes, meditation, rest, and massages as desired.
Pricing begins at $3,000 per person for the all-inclusive three-day stay, with a 10-person minimum booking requirement.