To continue to surprise its customers while affirming its role as ambassador of fine French dining in the sky, Air France has been working with renowned chefs since 2009 to develop its menus on departure from Paris in the Business and La Première cabins. In this way, famous talented chefs regularly help to create an exclusive menu with dishes specially developed to be served on board.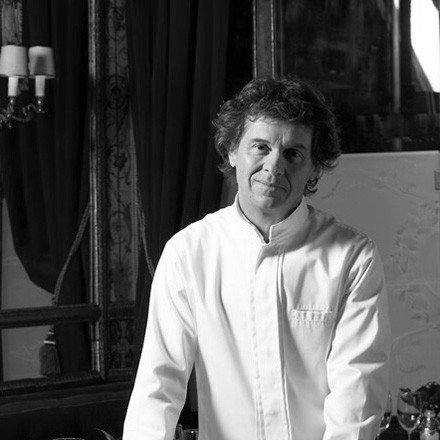 Between April and June 2017, customers travelling in Air France's La Première cabin will be able to enjoy a selection of starters and main dishes created by Guy Martin, the internationally-renowned Michelin-starred chef.
Two starters and six main dishes alternating over a three-month period:
Starter in April and June 2017:
Slice of foie gras, lime zest accompanied with its quenelle of date confit.
Starter in May and June 2017:
Lobster on a bed of fresh coriander, crunchy salad, pecan nuts and young spinach roots
Main dishes in April 2017
– Beef tenderloin heart with carrot coriander jus accompanied with white radish palets and a fava bean and carrot stew.
– Pan fried pigeon in a liquorice sauce accompanied with a mango pineapple confit and snow peas sautéed in olive oil.
Main dishes in May 2017
– Rack of lamb with yellow pepper star-aniseed sauce accompanied with Pekin sucrine lettuce and its ratatouille.
– Pan fried cod, Venere rice, sweet pepper seasoning, piquillos, fava beans and fennel.
Main dishes in June 2017
– Pan fried beef tenderloin on a slice of sour eggplant and avocado, tomato jus.
– Sumac prawns wrapped in a chicken breast, poultry and shellfish sauce, spring vegetables.
Over the next three months, Air France's Business class customers will be able to enjoy Chef Michel Roth's signature dishes on their long-haul flight from Paris.
Two dishes renewed every month:
April 2017
– Braised beef tenderloin, onion asparagus and carrot mousseline with mustard;
– Cod with tartuffon, golden polenta and mange-tout peas;
May 2017
– Chicken with rare peppers and citrus honey, caramelized pineapple and mango, vegetable sticks;
– Pollack, mussel juice with lemon zest, mixed green vegetables;
June 2017
– Veal shank with verbena, coloured vegetable fricassee;
– Pan-fried shrimp, tarragon-flavoured lobster sauce, red rice, spinach shoots and oyster mushrooms.
Unique culinary creations for an exceptional dining experience in the sky