RIU has just opened the doors of the ClubHotel Riu Costa del Sol. This new hotel, with its privileged location on the maritime promenade of Torremolinos and just metres from the beach, is the result of the complete renovation and unification of the Riu Belplaya and Riu Costa Lago hotels. In the 4-star category, and with a fresh and contemporary style, new services like free WiFi throughout the hotel, and the 24-hour All Inclusive programme, it becomes the perfect option for enjoying a family holiday in southern Malaga, in Spain.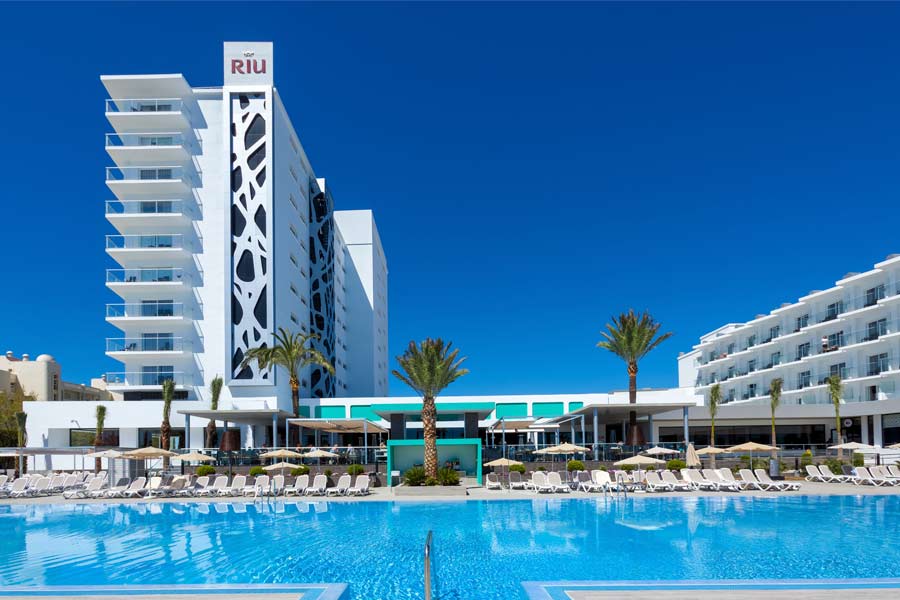 Access to the hotel is through a spacious, light-filled reception building, where the lobby bar 'Rebujito' is located. From there, a series of covered walkways lead guests to their rooms. The new hotel has 596 rooms which have been fully renovated and now feature new furnishings and décor in range of white, earth and blue tones, colours that create luminous and comfortable spaces. The brand new bathrooms, with modern fixtures and tilework in natural tones, have walk-in showers.
The new design provides large open spaces in the form of gardens and terraces for taking advantage of the excellent climate of the Costa del Sol over a meal or cocktail. To ensure sufficient shade and further beautify the garden areas, RIU has planted dozens of new palm trees to join those already present on the grounds. It has four outdoor swimming pools and one heated indoor pool, in addition to a fun and enticing 'splash' park for kids. The most spectacular of all is the beachfront main pool, with over 400 square metres, which is surrounded by an inviting solarium.
At dinnertime, guests can choose the buffet with international dishes in 'Ajoblanco', the main restaurant; Italian cuisine in 'La Dolce Vita'; or Andalusian specialties in 'María Sardina'. The ClubHotel Riu Costa del Sol also has six bars in different zones throughout the complex, from the lobby to the plaza and including the pool area and the theatre. The Sports Bar stands out for its novelty.
The hotel also has a wellness zone, with a gym, a Turkish bath and a spa offering all types of beauty and relaxation treatments. Guests can also enjoy a complete daytime programme of activities, a sport programme with RiuFit, and shows and live music at night.
The renovation of the ClubHotel Riu Costa del Sol is part of RIU's strategic plan to enhance the quality of its offer by fully reforming all its hotels. With this investment, the chain is also doing its part to increase the quality and popularity of the Torremolinos destination in national and international markets. This renovation follows those at the Riu Nautilus hotel, in Torremolinos, and Riu Monica, in Nerja, which were undertaken in 2013 and 2016, respectively.