The Spa at Four Seasons Hotel New York Downtown has officially opened its doors to the local neighbourhood this week. Featuring seven treatment rooms including one couple's spa suite, a nail room, eucalyptus steam room, outdoor terrace, 24-hour fitness centre and 75-foot (23 metre) indoor lap pool, The Spa is the ultimate sanctuary of wellness and pampering in the heart of the city.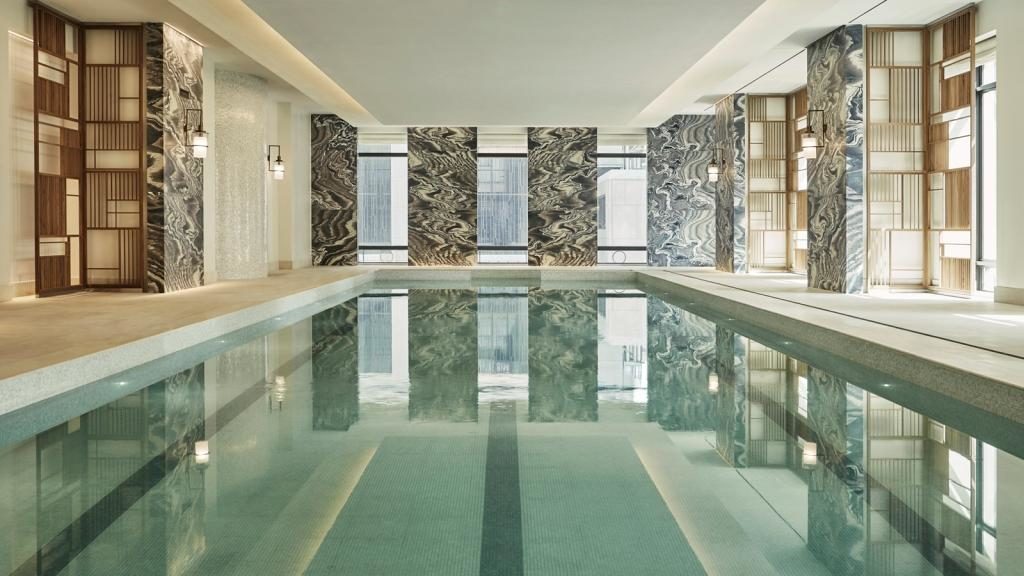 "The Spa offers an unparalleled level of luxury and pampering in a wonderful new location in Downtown Manhattan. We have partnered with the best European brands to offer our guests and clients the most exclusive and bespoke experiences, tailor made to their skin type," says Tara Cruz, Spa Director. "Much like the colourful city we reside in, we unite influential cultures and remedies from around the world to create a haven of beauty and wellness. We look forward to welcoming our Hotel guests and local residents for the ultimate pampering experience."
Only steps from the vibrant streets of Lower Manhattan, The Spa at Four Seasons blends high technology treatments with luxury natural products designed to indulge the body and the mind. The urban-chic retreat features two exclusive luxury brands from Europe – Dr Burgener, the Swiss expert in beauty and rejuvenation and Omorovicza, from the international Spa City of Budapest – to create customised experiences found exclusively at Four Seasons Hotel New York Downtown. Both European brands feature unique ingredients ranging from green caviar to Swiss milk, chardonnay and gold, and blend holistic and medi-aesthetic techniques to create flawless beauty and undeniable confidence.
Featured treatments Include:
Luxury Green Caviar by Dr Burgener: the ultimate go-to facial for pre-event preparation. The Vitaskin Ultrasound penetrates on a cellular level with an intense dose of green caviar and gold trace elements to repair and revamp the skin. The transformative is immediate – the skin feels lifted, pores are minimised and skin looks flawless.
Omorovicza's Purifying Mud Ritual: the mineral rich Hungarian moor mud from the thermal waters of Hungary have pure detoxifying powers. The first step is a detox salt exfoliation, followed by a cleansing mud wrap and a warmed rose quartz massage. It's a unique and transforming experience.
In addition to body rituals and skincare, The Spa also features Eastern-influenced massage offerings that promote continuous balance and act as an urban refuge from the demanding city. Each of the The Spa's treatments are authentic and undeniably results driven. Being mindful of the changes that the skin and body endures throughout the season, the menu will continuously change and evolve in line with the seasons.
The Spa features a wonderfully lavish eucalyptus steam room, locker room and relaxation room to enjoy before and after all treatments.
Also located on the third floor of the Hotel is a 75-foot (23 metre) lap pool with an outdoor sun deck and a 2,100 square foot (195 square metre) fitness centre offering state-of-the-art cardio-vascular equipment by MATRIX. Accessible only to Hotel guests, the fitness center is open 24 hours a day, 7 days a week and is accessible via Hotel room key, allowing midnight workouts when suffering from jetlag.
The Spa at Four Seasons also features a variety of specialty items for purchase, ranging from treatment products (Dr Burgener and Omorovicza) to jewelry by ASH + AMES, bath products by SoHo-based Red Flower, candles and diffusers by Fleur, lounge and ready-to-wear items by Maison de Papillon, fitness apparel by Garbe Luxe, women's bathing suits by "Brazilian-inspired" So De Mel and more.
Designed by Yabu Pushelberg, the ground-breaking design team out of Toronto and Soho, The Spa features a lighter, fresher, more soothing design vo­cabulary. White tay wood walls, and a combination of charcoal-coloured European oak and travertine floors grace the various zones. Organic, sculptural treatment rooms feature petal-shaped coves above the tables. In the pool, the layering of stone-clad columns, wood screens and a custom scratched plaster wall-finish add to the soothing tranquility of the space.
The Spa at Four Seasons Hotel New York Downtown is open from 9:00 am to 7:00 pm daily and is available for a complete range of treatments.