Series production of Lufthansa Technik's Induction Cooking Platform is now cleared for takeoff. Effective immediately, fresh food can be prepared on board quickly, safely, cleanly and economically. From the perfect fried egg to a sizzling rib-eye steak, the sky's the limit when it comes to cooking on board.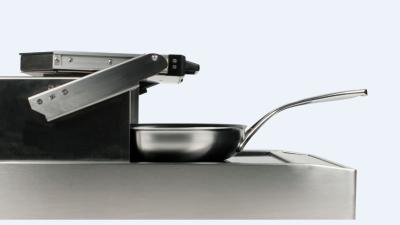 The platform fits into any aircraft galley, with dimensions of just 570 x 269 x 4 millimeters (ARINC size 4 and installation variants) and a weight of just 13.5 kilograms. It is being offered as an all-in-one solution, including power unit, exhaust fan and special cover and locking systems to ensure that pots and pans remain in place even during turbulence.
The option of preparing food freshly on board was a great attraction from the very beginning when it was presented at Aircraft Interiors Expo 2016 as a product idea in conjunction with the Ulm, Germany-based company hs2 engineering GmbH. Interest among VIP customers and commercial airlines was strengthened by the nomination of the solution as a finalist for the Crystal Cabin Award.
"Conversations with potential customers, flight attendants and cooks enabled us to adapt the cooking platform precisely to users' needs. We are now launching this product on the market," says Miriam Fontius, the project manager at Lufthansa Technik's Original Equipment Innovation division who is in charge of this project. "A number of applications enable not only cooking with pots and pans, but also the use of a special rice cooker with different settings and a toaster."