Taking center stage on Manhattan's pulsing Upper Midtown scene, The Whitby is Firmdale Hotels' second outing in New York, and a fitting creative bookend to its ever-popular Crosby Street Hotel in the heart of SoHo. Situated on West 56th Street at 5th Avenue, The Whitby is surrounded by world-class restaurants, boutiques, and museums, and is set to become a destination to rival any of it illustrious neighbors thanks to the Firmdale Hotels Co-owner and Design Director Kit Kemp's award-winning design.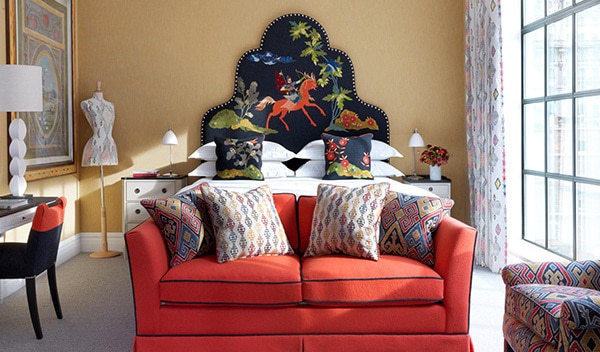 Each of The Whitby's 86 rooms and suites have been individually designed in Kit Kemp's colorful and carefree style, crafted through her innovative use of pattern, texture, color, and original artworks. Set over the hotel's sixteen stories, each guestroom boasts floor-to-ceiling windows, and some have private terraces with views over the city skyline. The show-stopping Whitby Suite is a spectacular two-bedroom headline suite spread over the entire top floor with spacious furnished terraces facing uptown and downtown. Bathrooms are elegantly finished in marble or granite and feature Firmdale's exclusive bath and body collection Rik Rak by Kit Kemp.
Located on the ground floor and open all day, The Whitby Bar is a richly colorful and airy room with high ceilings, a 30-foot pewter bar, beautifully upholstered banquettes, and gray oak floors. Warehouse-style windows and doors lead through to an orangery with vaulted ceilings and a skylight, bathing the space in natural light. The drawing room, nestled between the orangery and reception area, is a warm, informal spot defined by a feature fireplace and cozy, overstuffed furnishings. Throw in several stylish private-event rooms and a 130-seat state-of-the-art cinema, and the City That Never Sleeps has another good reason to never go to bed.
Location
Situated in the heart of upper midtown Manhattan on 18 West 56th Street at 5th Avenue, The Whitby is just a short walk from Central Park and Broadway. The hotel is on the doorstep of some of Manhattan's leading museums and galleries, including the world-renowned MoMA, and retail therapy comes courtesy of high-style neighbors such as Bergdorf Goodman.