Hyatt Hotels Corporation announced today that a Hyatt affiliate has entered into a management agreement with Tokyo Bay Resort Development Co., Ltd., a subsidiary of Sogo Development Co., Ltd. for a Hyatt Place hotel near Tokyo Disney Resort in Chiba, Japan. Upon its expected opening in 2019, Hyatt Place Tokyo Bay will be the country's first Hyatt Place hotel.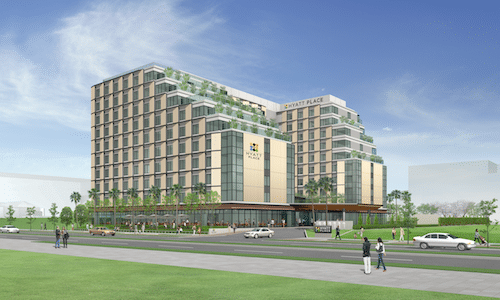 "It is our great pleasure to introduce the Hyatt Place brand to Japan through our collaboration with Sogo Development Co., Ltd.," said Hirohide Abe, senior vice president of Hyatt, Japan and Micronesia. "This opening will mark a very important milestone for Hyatt's brand growth strategy as the company expands its portfolio in key locations within the country to increase preference among guests."
Hyatt Place hotels offer casual hospitality and purposeful service in a smartly designed, high-tech and contemporary environment. Hyatt Place Tokyo Bay will be located at Urayasu City in Chiba Prefecture, less than three miles (4 kilometers) from Tokyo Disney Resort, one of Tokyo's premier travel destinations. It is also conveniently located between both of Tokyo's airports, 12 miles (20 kilometers) from Haneda Airport and 31 miles (50 kilometers) from Narita Airport. The 10-story hotel will offer 365 guestrooms including two suites, 1,900 square feet (180 square meters) of meeting space, an all-day dining facility, and a 24-hour gym.
"We are excited to work with Hyatt to bring the first Hyatt Place hotel to Japan," said President and Chief Executive Officer Shinya Ozawa, Sogo Development Co., Ltd. "The new Hyatt Place Tokyo Bay will have the feel of a resort with beautiful surroundings, including a park and views of Tokyo Bay, something that is sure to satisfy both business and leisure travelers. We will continue to work alongside Hyatt to create a hotel that is loved and valued by all guests while still meeting the high expectations of the people living in the area."