Marriott International announced that it will become an Official NCAA Corporate Partner across all 90 NCAA championships. Designated as the "Official Hotel Partner of the NCAA," Marriott International and its 30 distinct hospitality brands look forward to welcoming students, alumni, fans, and families across the country.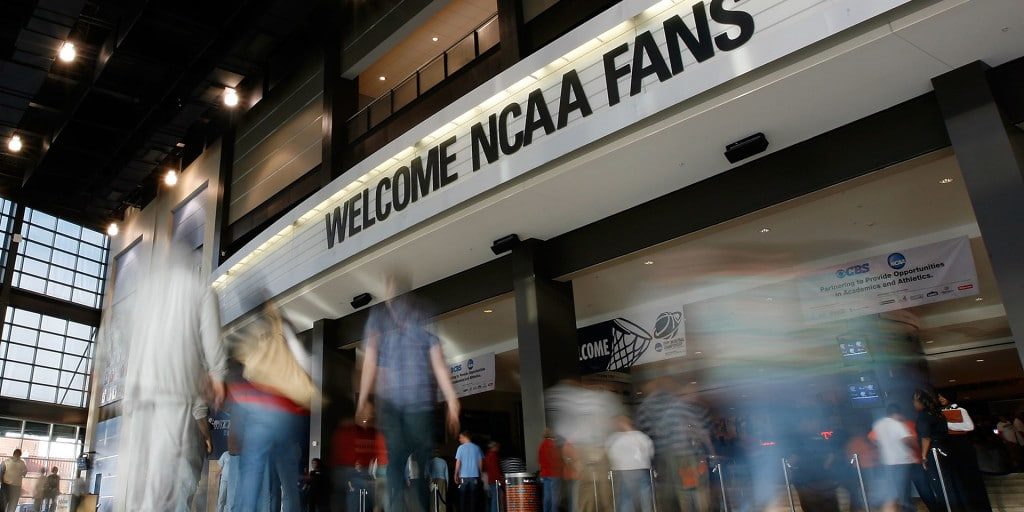 NCAA sports represent more than competition, they are about the spirit of community, mirroring the dedication that Marriott International places on serving its guests across the globe. Whether sharing the pre-game excitement, celebrating a victory, or commiserating in defeat, Marriott brings college sports fans together and facilitates meaningful moments through travel. Attending games on the road is a unique experience fans remember long after the final buzzer and the hotel is really the heart of that experience. In a way that perhaps nothing else does, college sports create a lasting bond. Breaking through geographic barriers, ages, and other demographic divides, loyalty to one's college team is something that connects them to fellow fans and that they take with them no matter where they go in life.
In partnership with the NCAA, Turner Sports and CBS Sports, Marriott International will have the opportunity to be there for all of these moments and to continue to support college student-athletes and communities across the country. Through all of the NCAA championships, Marriott International's robust portfolio of properties serve as home base. As the world's largest hotel company, no matter where the excitement of college sports takes athletes, supporters, and fans, Marriott International will be there. Beginning with the Men's Final Four in Phoenix and the Women's Final Four in Dallas this April, Marriott invites guests to share in celebrating every play, every game, every sport and every championship. This multi-year alignment, will span beyond NCAA March Madness®, to include the NCAA Men's and Women's Final Four® and all of the association's championships, granting Marriott International marketing, media, and activation rights.
As an official partner of the NCAA, Marriott is now able to offer incredible one-of-a-kind tournament experiences exclusively to Marriott guests and Marriott Rewards, The Ritz-Carlton Rewards and Starwood Preferred Guest (SPG) members. Starting with March Madness, Marriott Rewards members will have the opportunity to use their points to bid on the Ultimate Men's Final Four Weekend Experience, with just two spots up for grabs from now until March 17. This exclusive experience includes two highly sought after tickets to the Final Four and National Championship Game, VIP access to a variety of Final Four weekend events, and overnight accommodations at the luxurious JW Marriott Scottsdale Camelback Inn Resort & Spa with transportation to and from all weekend events in Phoenix. Access to the Marriott Rewards Final Four weekend can be found at the Experiences Marketplace, experiencesmarketplace.com, or SPG Moments at spgmoments.com.
"We are incredibly excited and honored to serve as the Official Hotel Partner of the NCAA. College sports bring people from all walks of life together in much the same way travel does and so the affiliation is a natural fit within our larger goal to provide our guests with inspiring and meaningful experiences" said Steve Heitzner, Chief Sales and Marketing Officer for the Americas. Heitzner goes on to say, "as a global hotel company, we have long been passionate about sports and their power to transform and connect. Across our 30 distinct hospitality brands, we provide unparalleled variety to suit every traveler's needs, and through our partnership with the NCAA, we look forward to creating memorable experiences for students, alumni, fans and families."
"We welcome Marriott International as the Official Hotel Partner of the NCAA and look forward to working with its numerous hotel brands that will provide our student-athletes, coaches, athletics administrators and fans with high level hospitality and service during NCAA championships and events," said Dan Gavitt, NCAA senior vice president for basketball. "The goals of Marriott International and NCAA Championships are the same – to provide a world-class and memorable experience."
"Fans travel to over 800 sites each year to attend NCAA Championship events and Marriott is the perfect partner to enhance that on-site experience," said Will Funk, executive vice president of property marketing and corporate partnerships for Turner Sports. "The experience is everything, and Marriott is uniquely positioned to provide the best hotel and hospitality options for the millions of people who love seeing student athletes compete at the highest level."
"We are pleased to announce the addition of Marriott International to our NCAA Corporate Marketing family," said Devron Edwards, Vice President of NCAA Partnerships for CBS Sports. "As the world's largest hotel chain, Marriott will provide an unparalleled level of activation at many NCAA Championships, enhancing college sports fans' and participating student-athletes' experiences and connecting them to these once in a lifetime events like never before."