Starting with the 2017 season, Steamboat Bay Fishing Club's newest accommodations, The Residence at Steamboat Bay, a stand-alone manor down the shore from The Lodge, is available for exclusive use for up to 8 guests. Located just minutes from the best fishing spots in Southeast Alaska, the angler-centric private resort appeals to travelers looking to land the wild salmon of their dreams. With one-to-one staff to guest ratio, cuisine customized to guest preference, high-performance boats, U.S. Coast Guard licensed guides, and more than 20 species of sport fish nearby, The Residence caters to luxury travelers who want authentic adventure without sacrificing comfort.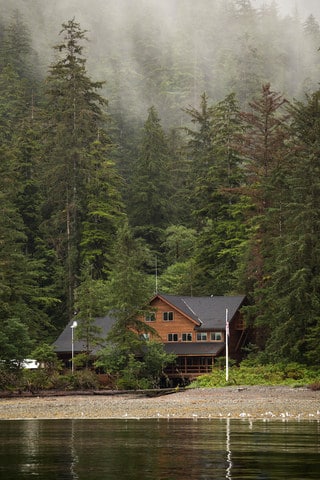 "With all the luxury offered at Steamboat Bay, the opulence is really outside. Waking up to the vivid colors and crisp air of Southeast Alaska and being right on these famous fishing grounds is something that just can't be recreated anywhere else in the world," said Steve Cockrell, general manager.
The new guesthouse features eight single accommodation bedrooms and two custom-built, 27-foot fishing boats with heated cabins dedicated exclusively to guests of The Residence. Crafted in Steamboat Bay's Alaska style, The Residence is made from local timbers and stone and displays the work of Alaska Native artists. It features a Great Room with large fireplace, an expansive Club Room complete with pool table, media center and well-stocked hosted wet bar, a hot tub overlooking the bay, and a custom overwater dining room with glass floor for viewing the salmon that swim up the stream under the guesthouse. Guests also have complete access to services and amenities of Steamboat Bay including on-site massage, bay kayaks, a sauna styled after a traditional Slavic banya, and more.
"The Residence includes all the amenities of private travel amid the unbridled wilderness of Alaska. Spectacular fishing is our heart, but we strive to provide guests with an all-encompassing superior experience," said Cockrell. "An effortless adventure."