On a continued quest to discover the unique and inspired, Design Hotels™ has scoured the globe and selected six new member properties, spanning four continents. Complementing a curated portfolio of over 290 member hotels, the new additions epitomize the ethos and values that Design Hotels™ holds dear—from effortless living paired with mindful design to the regeneration of treasured buildings.
Provocateur - Berlin, Germany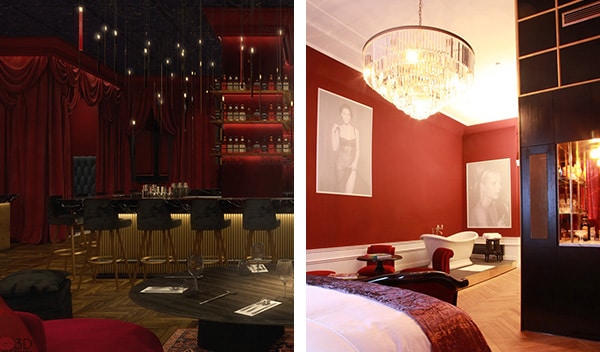 Image 6 of 6
Set in Berlin's pulsing Charlottenburg district, a new opening from the team behind Roomers Frankfurt seduces guests with fusion cuisine, 58 lavish rooms, and an award-winning bar concept. The interiors mix 1920s Paris with the urban Berlin of today—think twinkling chandeliers, low lighting, contemporary artworks by photographer Kai Stuht, and velvet curtains—while the building is a perfect picture of the neighborhood's archetypal modern-style Art Nouveau architecture. Rooms also have a special 'provocateur mode' that will set the right romantic mood through lighting, music and video art. An innovative Chinese-French restaurant headed up by Duc Ngo—the maestro behind the likes of moriki Frankfurt and Baden-Baden as well as Madame Ngo Berlin and 893 Ryōtei— and an intimate, subterranean bar ensure guests adhere to the hotel's mantra of "stay up all night and sleep all day."
Starting in Design Hotels™' home city of Berlin, Provocateur—a collaboration between three Design Hotels™ Originals, Micky Rosen and Alex Urseanu from Roomers and Liran wizman from Sir Hotels—draws inspiration from 1920s Paris and its buzzing Charlottenburg neighborhood. The latest addition to the Sir Hotels stable, Sir Adam is a cultural, artistic, and culinary gathering place in the new heart of Amsterdam. With a spectacular waterfront setting, the Altis Belém Hotel & Spa acts as a gateway to old and new Lisbon. Across the pond, Chicago's iconic Coyote Building plays host to The Robey, which has already established itself as a hip neighborhood spot for locals and guests alike. A heritage building also forms the foundations of Singapore's The Warehouse Hotel, housed in a turn-of-the-century go down on the banks of Robertson Quay. In the South Korean capital, GLAD Live Gangnam's 210 rooms and suites are design-conscious hubs for the stylish at heart.