On a continued quest to discover the unique and inspired, Design Hotels™ has scoured the globe and selected six new member properties, spanning four continents. Complementing a curated portfolio of over 290 member hotels, the new additions epitomize the ethos and values that Design Hotels™ holds dear—from effortless living paired with mindful design to the regeneration of treasured buildings.
The Warehouse Hotel - Singapore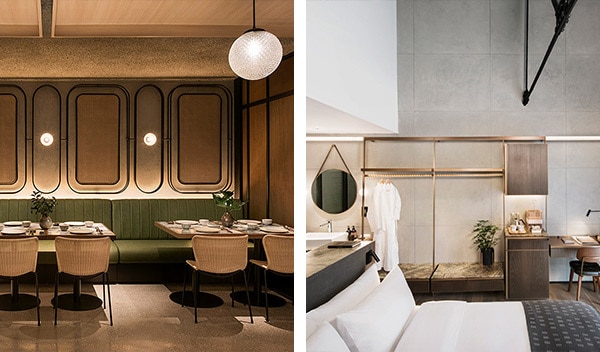 Image 2 of 6
The Warehouse Hotel is the inaugural hotel of renowned Singaporean hospitality firm The Lo & Behold Group. Encompassing a meticulously renovated turn-of-the-century godown, on the banks of Robertson Quay, the inspiration for the hotel's design language came from the building itself. The unique structure from the late 19th century once stood in the midst of a hotbed of secret societies, underground activities, and liquor distilleries. The restored heritage building is a proud illustration of old and new thanks to the award-winning local agency Asylum. Original details like the triple-pitched roof and raw brick stand alongside a custom-made light in the lobby made of wheels and pulleys, and tailor-made, single-unit copper wall pieces that unify the rooms by integrating everything from desk to wardrobe.
Starting in Design Hotels™' home city of Berlin, Provocateur—a collaboration between three Design Hotels™ Originals, Micky Rosen and Alex Urseanu from Roomers and Liran wizman from Sir Hotels—draws inspiration from 1920s Paris and its buzzing Charlottenburg neighborhood. The latest addition to the Sir Hotels stable, Sir Adam is a cultural, artistic, and culinary gathering place in the new heart of Amsterdam. With a spectacular waterfront setting, the Altis Belém Hotel & Spa acts as a gateway to old and new Lisbon. Across the pond, Chicago's iconic Coyote Building plays host to The Robey, which has already established itself as a hip neighborhood spot for locals and guests alike. A heritage building also forms the foundations of Singapore's The Warehouse Hotel, housed in a turn-of-the-century go down on the banks of Robertson Quay. In the South Korean capital, GLAD Live Gangnam's 210 rooms and suites are design-conscious hubs for the stylish at heart.