On a continued quest to discover the unique and inspired, Design Hotels™ has scoured the globe and selected six new member properties, spanning four continents. Complementing a curated portfolio of over 290 member hotels, the new additions epitomize the ethos and values that Design Hotels™ holds dear—from effortless living paired with mindful design to the regeneration of treasured buildings.
GLAD Live Gangnam - Seoul, South Korea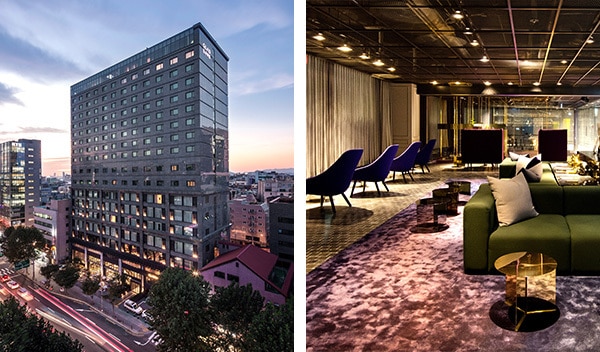 Image 1 of 6
Set in Seoul's fashionable Gangnam district—home to local and global luxury brands and the city's vast Olympic Park—GLAD Live Gangnam is a beacon of vibrancy that serves as an urban playground for cosmopolitan revelers, both homegrown and international. Offering a "curated lifestyle" that is in full harmony with Seoul's chic nightlife offerings, the 210 rooms and suites are design-conscious hubs for the stylish at heart. Culture and entertainment are at the core of the GLAD Live Gangnam experience, with the hotel's afterhours club, DStar, and its lush EDM music and 3D projection mapping, intensifying one's escape into music and the moment.
Starting in Design Hotels™' home city of Berlin, Provocateur—a collaboration between three Design Hotels™ Originals, Micky Rosen and Alex Urseanu from Roomers and Liran wizman from Sir Hotels—draws inspiration from 1920s Paris and its buzzing Charlottenburg neighborhood. The latest addition to the Sir Hotels stable, Sir Adam is a cultural, artistic, and culinary gathering place in the new heart of Amsterdam. With a spectacular waterfront setting, the Altis Belém Hotel & Spa acts as a gateway to old and new Lisbon. Across the pond, Chicago's iconic Coyote Building plays host to The Robey, which has already established itself as a hip neighborhood spot for locals and guests alike. A heritage building also forms the foundations of Singapore's The Warehouse Hotel, housed in a turn-of-the-century go down on the banks of Robertson Quay. In the South Korean capital, GLAD Live Gangnam's 210 rooms and suites are design-conscious hubs for the stylish at heart.