To continue to surprise its customers while confirming its role as ambassador of fine French dining in the sky, the famous chef Babette de Rozières will create dishes on the menu in Air France's Business and Premium Economy cabins.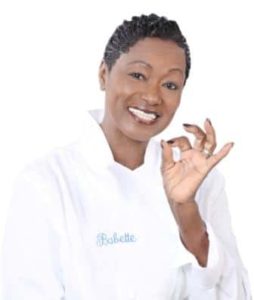 Three dishes, renewed every month, will be available on departure from Cayenne (French Guiana), Fort de France (Martinique) and Pointe à Pitre (Guadeloupe) to Paris-Orly and on flights on the Caribbean regional network between Cayenne and Fort de France. The following dishes created by Babette de Rozières will be on the menu in Business and Premium Economy:
– Fillet of cod marinated in lime, saffron cream sauce, plantain risotto on the menu in March, June, September and December 2017;
– Caramelized chicken fricassee, sweet spicy sauce, duchess of breadfruit with turmeric on the menu in April, July, October 2017 and January 2018;
– Free-range chicken leg, curry sauce, crunchy vegetable confits and basmati rice on the menu in May, August, November 2017 and February 2018.
Babette de Rozières, ambassador of fine Caribbean cuisine
Originally from Guadeloupe, Babette de Rozières discovered the culinary traditions of her island with her grandmother. She perfected her culinary skills in famous Parisian hotels: the Méridien, the Grand Hôtel, the Ambassador at the Ritz and the George V. Combining fun, dexterity and inventiveness, she uses the colours, musicality and flavours of her native island to concoct dishes with subtle flavours and a modern twist.
In 1978, she bought her first restaurant in Paris, the Hibiscus, which had just two tables. It was a great success and other restaurants followed: la Plage des Palmiers (Saint Tropez), le Jardin des Gourmets (Le Gosier, Guadeloupe), la Villa Créole at Opéra (Paris), la Table de Babette (Poissy) and la Table de Babette in the 16th arrondissement, reputed to be the best Creole restaurant in Paris.
An ambassador of Caribbean culture that she fervently promotes, in 2015 she founded the "salon de la gastronomie des Outre-Mer" in Paris, which promotes French overseas cuisine all over the world and now on board.
Air France, a high-flying culinary tradition
Air France is committed to promoting French haute cuisine in all its cabin classes. With a unique legacy, the Company is continuing a tradition that values excellence, pleasure and exclusivity. Since 2009, the Company has entrusted a number of dishes on the Business class menu to a renowned French chef on board its long-haul flights. Joël Robuchon, Guy Martin, Michel Roth, Régis Marcon, Anne-Sophie Pic and François Adamski were the first to endorse this mission of ambassador of French gastronomy on board Air France flights by offering one or more of their creations among the various hot dishes on the menu. In line with the menus signed by Michelin-starred chefs on departure from Paris, together with Babette de Rozières Air France now offers new high-flying culinary delights on departure from the French West Indies and French Guiana.