Hilton and Constructora Colpatria today announced the signing of a franchise license agreement to open Hilton Medellin, bringing the company's flagship brand to Colombia's second largest city. The multi-million project will be one of the largest real estate investments in Colombia this year. The 25-story, 206-room new-build development is planned to open in Q2 2019.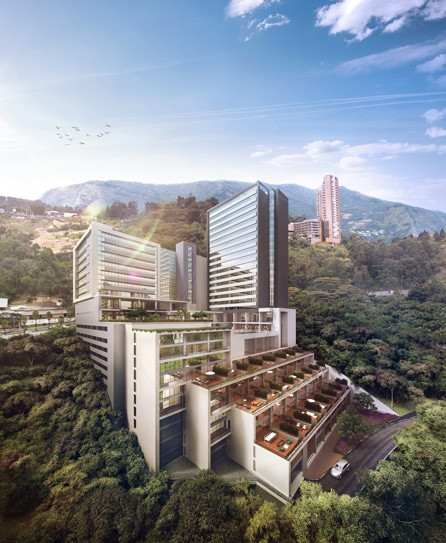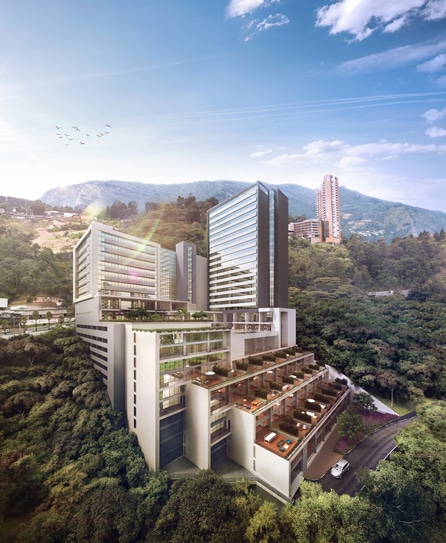 Hilton opened DoubleTree Bogota Calle 100, Hampton by Hilton Bucaramanga, and Hampton Inn by Hilton Medellin in Colombia in 2016, and currently has a portfolio of 14 properties in the country and 9 projects in the pipeline.
"This is an excellent time to bring the Hilton brand to Medellin as its lodging market continues to experience healthy growth and the city further establishes itself as one of Colombia's principal business hubs," said Juan Corvinos, managing director, development, Mexico, Central America and Hispanic Caribbean Regions, Hilton. "With an influx of multinational corporations, Hilton Medellin's sought-after location and unparalleled amenities will position the property as a prominent destination for social and corporate events in the city."
The hotel site is located on Avenida de las Palmas, and will offer great accessibility to one of the busiest and most important roads in Medellin's upscale El Poblado neighborhood. Hilton Medellin will be part of a mixed-use development, to include retail, office space and non-branded residential units in a complex with a parking garage with more than 450 parking spaces.
The hotel is owned and developed by Constructora Colpatria. Constructora Colpatria has over 40 years of experience in the Colombian market having developed many commercial, residential, retail and infrastructure projects throughout Colombia, and currently has offices in Mexico and Peru.
"Hilton Hotels & Resorts has a long history in Colombia and its strong reputation in the country brings confidence to this development," said Amparo Polania, President, Constructora Colpatria. "The city of Medellin is an increasingly important an international business hub and we are excited to bring the first Hilton hotel to the market, benefitting the growing number of business travelers."
Hilton Medellin will feature more than 2,000 square meters of world-class meeting space, including a 600-square-meter modular ballroom alongside five additional secondary meeting rooms. Other amenities will include an outdoor pool and whirlpool, executive lounge, fitness center, restaurant and piano bar, spa facility and beauty salon.
"Located in a valley surrounded by mountains, Medellin continues to be globally recognized as one of the most innovative cities in the world," said Shawn McAteer, vice president, global brand management, Hilton Hotels & Resorts. "The signing of Hilton Medellin is a significant milestone in a key region, and elevates our overall presence in this growing Latin America destination."