Silversea Cruises is delighted to announce that renowned Italian fabrics supplier Faliero Sarti has created a selection of exclusive scarves to celebrate the launch of Silver Muse in April 2017.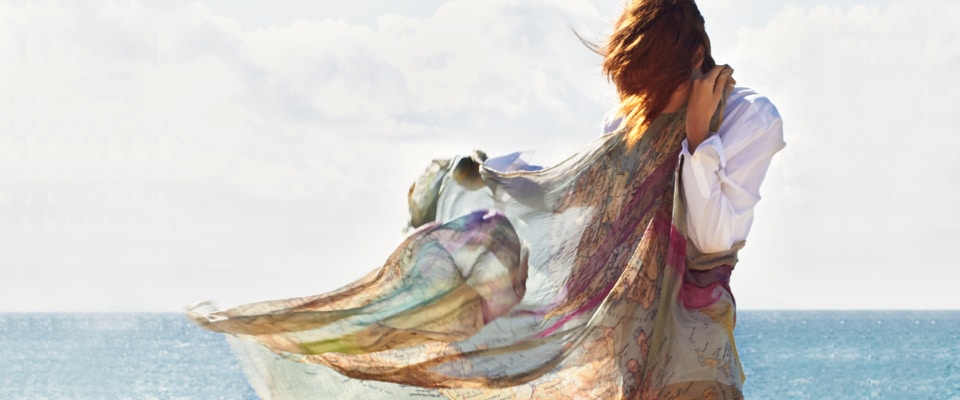 The exclusive prints on each scarf have been designed to reflect the Silversea core values of exploration, luxury and uniqueness. The scarves will be gifted to selected guests at events around the world to celebrate the launch of Silversea's ninth ship, Silver Muse. In addition, guests will be able to purchase the exclusive scarves from the boutique during their voyage on Silver Muse providing a unique memory of their journey.
Barbara Muckermann, Chief Marketing Officer at Silversea Cruises, said: "As a family-run company, Faliero Sarti shares the same values as Silversea, including a passion for quality and Italian flair. We are delighted to bring this partnership steeped in Italian heritage to our discerning guests to celebrate the launch of Silver Muse."
Faliero Sarti Sales Director, Federico Sarti said: "Faliero Sarti echoes the pride in tradition and culture embedded in Silversea's past. As a 'made in Italy' brand, we are honoured to have been chosen to partner with the launch of Silver Muse."
"Lanificio Faliero Sarti" was founded in Italy in 1949 by Mr. Faliero Sarti and is renowned across the globe as one of the most famous Italian textile companies. The exclusive scarves have been designed by Monica Sarti and reflect decades of both artistic experience and technical knowledge creating a range of scarves that Silversea guests can wear with pride for years to come.
Calling at 34 countries and 130 ports in 2017 alone, Silver Muse will redefine ocean travel, enhancing the small-ship intimacy with spacious all-suite accommodations that are the hallmarks of the Silversea experience. The addition of Silver Muse will expand Silversea's fleet to nine ships and will, once again significantly raise the bar in the ultra-luxury cruise market.