Nata International Ltd. launches YOKOangel Luxury Footwear Collection for the hospitality and spa industries. After decades in the footwear business, Italian entrepreneurs Claudio Lombardi and Barbara Crescioli launch YOKOangel Luxury Footwear Collection, in the United States, with their unique, patented design of leisure shoes geared to the hospitality, spa and leisure travel industries. The mission of the founders was to deliver a cutting-edge concept shoe for women, men and children offering the latest memory foam technology for comfort and wellbeing, paired with stylish Italian design.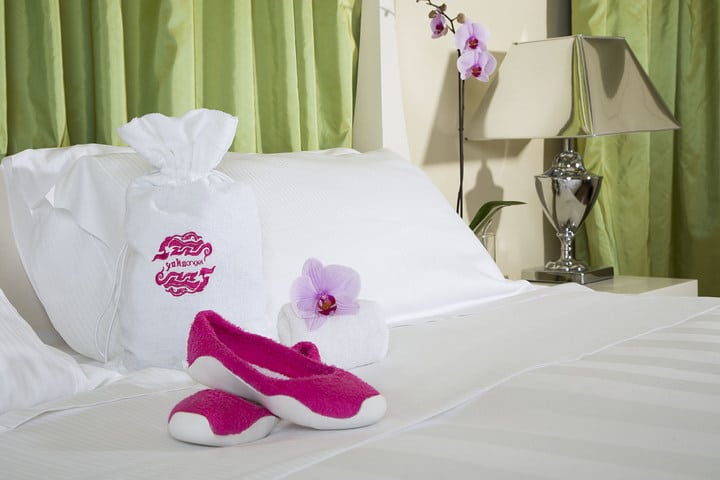 "In the process of creating YOKOangel our primary goal was to design a comfortable and unique, patented shoe for the luxury spa world," says Claudio Lombardi of Nata International Ltd, the parent company for YOKOangel.
Unique characteristics of the YOKOangel Luxury Footwear Collection include extra comfort from the 15mm memory foam insole, maximum flexibility derived from the upper and outsole materials, machine washable, non-slip rubber outsole, and easy folding for compact transporting on the go. YOKOangel offers style and comfort wrapped into one elegant shoe with a purpose.
YOKOangel is designed in Italy, yet manufactured in China where the equipment and technology supports the design requirements. Made from 100% cotton terry cloth towel fabric upper and a specially designed rubber outsole, this winning combination was uniquely patented exclusively for YOKOangel footwear. Due to the combination of materials, YOKOangel footwear is water resistant making them ideal for use in wet areas including the spa, swimming pool, beach, sauna or gym. Another benefit of the sturdy outsole design is that YOKOangel footwear goes from spa to street without sacrificing the life of the shoe. Custom logo designs are available in a multitude of colors to accommodate bulk orders from hotels, spas, cruise lines, fitness centers and specialty boutiques. A complete range of full and half sizes are available for the entire family – women, men and children.
From the spa to the beach and beyond, YOKOangel footwear offers versatility in appearance, with over sixteen color combinations and styles, while delivering comfort and wellbeing in every stride.