Kaligo Travel Solutions, the leading innovator in loyalty commerce, and Velocity Frequent Flyer, the award-winning loyalty program of Virgin Australia, have launched a new online hotel booking platform, opening up the largest hotel inventory available to Velocity Frequent Flyer members for redemption bookings in Australia.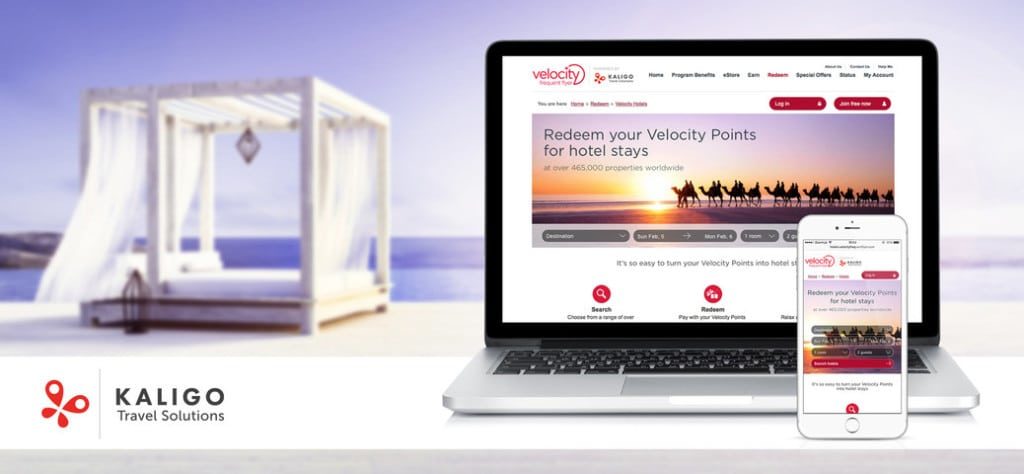 Now live at hotels.velocityfrequentflyer.com, the platform features over 465,000 hotels and resorts worldwide leveraging inventory from dozens of major travel suppliers. Velocity members are able to book using Velocity Points or with Points + Pay which features an interactive slider to allow members to explore the Points and cash combinations that can be used to book. Fully integrated with Velocity Frequent Flyer, the booking engine processes Velocity Points redemptions and confirms hotel bookings instantly in real-time.
"Kaligo Solutions is excited to collaborate with Velocity, a program renowned for providing its members with unique and delightful experiences, to launch an unprecedented hotel redemption offering," said Kyle Armstrong, CEO of Kaligo. "Velocity and Kaligo share the same values of uncompromising customer focus and innovation to address ever-evolving customer needs. We have collaborated closely to design and launch a world-class member experience within eight weeks."
Velocity Frequent Flyer CEO Karl Schuster said: "This partnership with Kaligo enables us to offer Velocity members valuable and exciting redemption options for hotels around the world.
"Kaligo opens up a whole new world for Velocity members, with the largest hotel inventory becoming available to them for redemption bookings in Australia. Kaligo is leading the way when it comes to digital innovation and we are delighted to partner with them to help make our member's holiday dreams become a reality," Mr Schuster said.