An epicurean collaboration between two icons of hospitality and gastronomy from 13 to 19 February 2017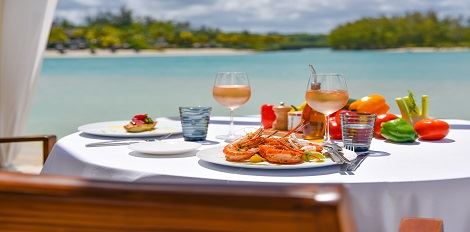 Shangri-La's Le Touessrok Resort & Spa is thrilled to announce a new culinary partnership with La Petite Maison. Originating from Nice, on the French Riviera, La Petite Maison will 'pop-up' at Shangri-La's Le Touessrok Resort & Spa in Mauritius from 13 to 19 February. This exciting collaboration will see Republik Beach Club & Grill, one of the resort's six dining spaces, transformed to recreate the intimate and exclusive La Petite Maison atmosphere. From the signature décor and table displays to a live band strolling amongst the tables, guests can enjoy a taste of true French elegance.
During this one week pop-up, diners can expect to sample the French and Italian cuisine which has made La Petite Maison a firm favourite amongst celebrities, politicians and royalty, earning its motto "Tous celebres ici" (all famous here).
With a clientele that includes the King and Queen of Jordan and Madonna, and franchises* across the globe in cities such as Cannes, Paris, London, Dubai, Miami, Beirut and Istanbul, La Petite Maison's calibre and prestige will certainly resonate with the discerning Shangri-La guests.
Established as one of the leading lifestyle destinations in the Indian Ocean, and famed for its lively entertainment scene and exquisite dining experiences, Shangri-La's Le Touessrok's LPM pop-up further cements the property's reputation as a sought after hotspot on the island. At this new welcoming Cote d'Azur café environment, guests at the resort will be able to enjoy an eight-course menu for dinner, available daily as well as a brunch menu on the 18th and 19th February.
The chefs behind the pop-up menus are the Executive Chef of La Petite Maison and Chef de Cuisine of Republik Beach Club and Grill. Meanwhile, Anne-Laure Rubi, daughter of the celebrated founder of La Petite Maison Nice, will be at Le Touessrok to orchestrate this collaboration between two icons of hospitality and gastronomy. With seasonal French ingredients being imported to the resort along with the other vital elements of the La Petite Maison experience, diners will enjoy authentic La Petite Maison dishes in the vibrant and lively setting of Republik Beach Club & Grill.
The La Petite Maison pop-up menu is heavily influenced by Cuisine Nicoise, a traditional cooking method originating from LPM's hometown of Nice, incorporating French and Italian cuisine using Alpine and Mediterranean ingredients. Signature dishes will include wild seabass fricassee, beef filet with black pepper, truffle pasta, crayfish linguine, "Petits farcis" stuffed vegetables Provençal style and "Pissaladière" from Nice.
Located on the East coast of Mauritius, in one of the island's most breath-taking bays, Shangri-La's Le Touessrok Resort & Spa offers infinity views across the turquoise waters of the Indian Ocean. The hotel boasts two swimming pools, an 18-hole par 72 championship golf course, a kids' club and CHI, The Spa focusing on signature sense of place treatments along with a full range of facial care and treatments by Carita and Decléor. The resort also features Ilôt Mangénie; the private island, three iconic beach villas which come replete with dedicated teams of staff, and six trendy restaurants and bars with cutting-edge dining concepts, vibrant atmospheres and artistic collaborations.