Today, United Airlines, Houston's leading carrier, previewed its new Terminal C North at Houston's George Bush Intercontinental Airport, in partnership with the Houston Airport System and the airport hospitality group OTG.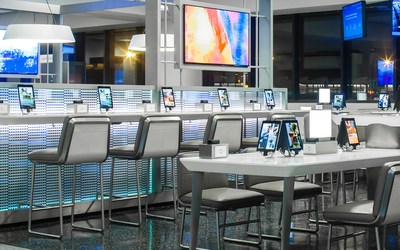 At 265,000-square-feet, the new $277 million space is more than 100,000 square feet larger than the already existing Terminal C, offering a more comfortable and lavish concourse-to-gate experience for United's customers. Aircraft enthusiasts will enjoy the sweeping tarmac views courtesy of the floor-to-ceiling concourse windows, and all travelers will relish the expansive gate-lounge areas, world-class retail shops and fresh, locally inspired dining options.
"This new terminal is truly befitting Houston's hometown airline," United president Scott Kirby said, "and just like Houston, we're proud to call this gorgeous new space home. Everywhere you look in Terminal C – from the food choices to the modern designs to the relaxed surroundings – you'll notice the attention to detail and the innovative thinking that went into creating this facility."
United has served Houston for more than 70 years. From its hub at George Bush Intercontinental Airport, United and United Express offer nearly 500 daily flights to more than 170 destinations around the world, including top business and leisure markets in Asia, Europe and the Americas. The Houston hub is United's premier gateway to Latin America, serving 52 nonstop destinations across Latin America and the Caribbean. United is also one of Houston's largest employers, with more than 14,000 Houston-based employees.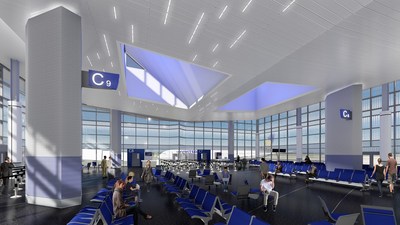 OTG will oversee the culinary and retail operations in the new terminal (as well as those in Terminal B South and Terminal E), introducing an array of sophisticated and contemporary amenities. United's Terminal C North will be home to several unique eateries created by some of the region's most renowned chefs, including a taqueria by Chef Roland Laurenzo, a Neapolitan-style pizza concept imagined by Chef Ryan Pera, Chef John Nguyen's Vietnamese-Cajun fusion eatery, a Panini bar designed by Chef Monica Pope and a Houston-centric tavern by the James Beard Award-winning Chef Chris Shepherd. Aside from taste and quality, OTG's concepts are also known for their tech-enhanced hospitality, driven by OTG's award-winning and iPad based flo® tech, and OTG's focus on locally sourced farm-to-table ingredients.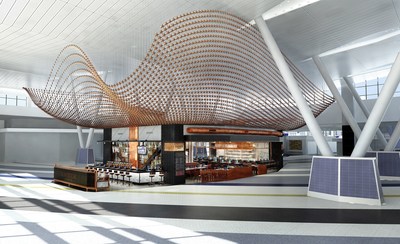 "We couldn't be more proud of this partnership with United and the program we've developed for C-North," said Rick Blatstein, OTG CEO. "In sourcing some of Houston's most celebrated culinary talent, designing fully immersive spaces and implementing leading-edge tech, we've ensured a world-class airport experience, built for the United traveler."