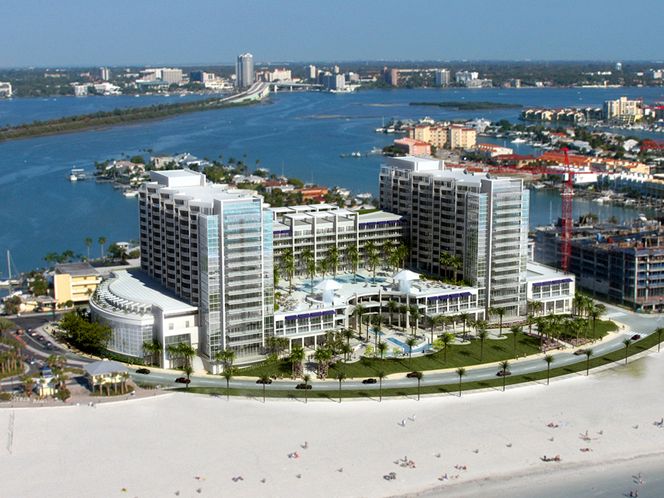 Wyndham Hotel Group is making waves and defining approachable luxury in Florida with the opening of its latest resort destination, the new-construction, 343-room Wyndham Grand Clearwater Beach.
The striking two-tower resort, owned by Florida philanthropist Dr. Kiran Patel and managed by Wyndham Hotel Group, sits just steps from Pier 60 and the white sands of Clearwater Beach, named the best beach in the U.S. It offers direct Gulf Coast views, signature dining, contemporary décor, and more than 22,000 square feet of event space – including the Dunes Ballroom, the largest in Pinellas County – for memorable meetings and events.

"The Clearwater Beach area is one of the country's top spots for vacationers and convention travelers, and record-breaking spikes in visitors year after year have fueled demand for high-end, quality accommodations," said Mark Kukulski, head of Wyndham Hotel Group's management company. "With Wyndham Grand's unique and understated approach to luxury travel, we're meeting that demand and offering an exceptional resort environment which can't be matched in this market. We're focused on introducing this distinct brand to the most sought-after cities and resort towns around the world, and Clearwater Beach is a significant addition to that list."

Wyndham Grand Clearwater Beach is the brand's 14th location in the U.S. – and the third in Florida, joining established resorts in Orlando and Jupiter – as it continues widening its footprint in amazing destinations like Athens, Phuket, Shanghai, Istanbul, Chicago, and Frankfurt. Wyndham Hotel Group recently unveiled plans for stunning new-construction Wyndham Grand hotels in Barbados, Nevis, Uruguay and Paraguay.

The resort, located within 30 minutes of the area's two international airports, offers 12 meeting rooms – including the nearly 11,000-square-foot Dunes Ballroom which can accommodate up to 800 people – complete with terraces, outdoor function space, free Wi-Fi and state-of-the-art technology like programmable chandeliers which can change colors and light patterns at the touch of a button. With each event at Wyndham Grand Clearwater Beach, professional and novice planners can earn loyalty points with go meet®, the first formal rewards program of its kind for meeting planners. Planners who are members of the Wyndham Rewards® loyalty program can earn one point for every dollar spent on qualifying revenue, regardless of billing method, with no minimum spend requirement and no maximum point limit.

Each contemporary guest room at Wyndham Grand Clearwater Beach faces the ocean or Intracoastal Waterway and features water-inspired décor and floor-to-ceiling windows, with most offering balconies. The hotel's bunk rooms are just right for family vacations with bunk beds for kids and separate king beds for adults, while two bi-level presidential suites offer the utmost in waterfront luxury with three bedrooms, separate dining and living areas, and private terraces.

Guests can dine and imbibe at DocK's, the pool bar and grill; eSKPades, the barista and lobby bar; or Ocean Hai, the resort's signature dining experience and the only Asian Fusion restaurant in Clearwater Beach. Additional services and amenities include an open-air lobby, a pool overlooking the beach, the full-service Spa Pallavi, and a 24-hour fitness center.

The resort also encompasses more than 100 two- and three-bedroom vacation ownership units through Wyndham Hotel Group's sister company Wyndham Vacation Ownership and its CLUB WYNDHAM® brand.

The addition of Wyndham Grand Clearwater Beach boosts the company's expanding collection of managed properties, which recently grew to more than 100 hotels and resorts globally with the acquisition of Fën Hotels, a leading management company in Latin America with 23 hotels and three soon-to-open locations across Argentina, Peru, Costa Rica, Uruguay, Paraguay, and the U.S.