The Trip Planner from SBB now gives customers rail, bus, bike and car options in a single app, allowing them to plan and book their journeys from door to door. A preview version of the app called «SBB Trip Planner Preview» is available for iOS devices from the Apple App Store and for Android devices from the Play Store. This innovative information platform allows users to plan and book trips on various forms of public transport and compare and combine them with journeys by car, by bike or on foot. The Trip Planner app is being developed further in stages together with customers.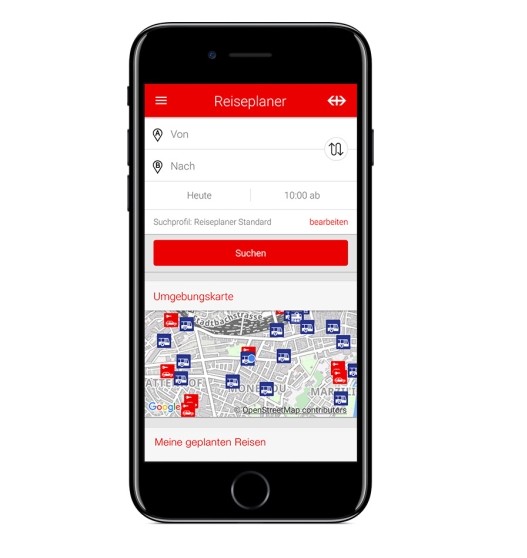 SBB is shaping the mobility of the future: personalised door-to-door journey planning using the means of transport that are cheapest, quickest or most suited to customers' individual needs in each case is becoming an increasingly important factor for them. This is why SBB has developed an app that enables trips to be planned from door to door. Users can compare the various public transport services on offer, including with car and bike sharing schemes and the option of using their own car, combine them together and then book their journey. For instance, customers can combine a train journey with a Mobility car and reserve their vehicle at their desired location without leaving the Trip Planner. Just a few clicks are needed to display and compare all the potential travel options in real time, taking account of current conditions. Customers can now download the «SBB Trip Planner Preview» app for free from the App Store or the Play Store with no need to register.
Search profiles tailored to customers' individual needs
Public transport tickets can be booked in the SBB Mobile app with just one click. The Trip Planner app lets users reserve Mobility vehicles directly. It also shows bike availability at the individual PubliBike stations. In addition, app users can create search profiles to tailor their journey planning results more closely to their individual requirements. If a customer has a Half-Fare travelcard, for example, this will be taken into account when calculating prices.
SBB is launching the SBB Trip Planner Preview as a separate app. The two products could conceivably be combined in a single app in the long term. Customers are already able to switch straight from the Trip Planner app to SBB Mobile. The main focus in developing the Trip Planner app is the varied needs of customers. This is why SBB is involving them in its development, which is happening in stages. The first phase was a pilot project, in which SBB gathered feedback in partnership with selected test customers and incorporated their suggestions and opinions into the Trip Planner's ongoing development. SBB is also planning to add additional partners from the mobility or services sector to the Trip Planner app as soon as possible. The final version of the Trip Planner will be launched next year once the current test phase has
finished.