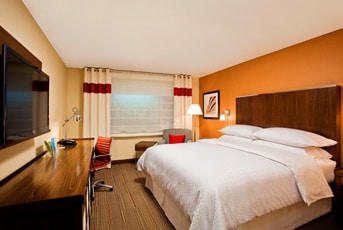 Marriott International, Inc.® today announced the opening of Four Points Cleveland Airport, the brand's first hotel in Cleveland. Designed with today's modern traveler in mind, the new Four Points offers approachable design, stylish comfort and all the brand's popular extras.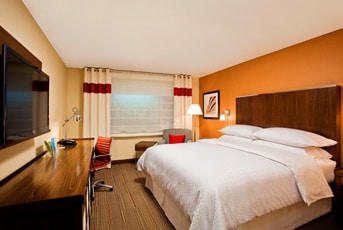 Owned by Cleveland Star Real Estate Investments, LLC, the recently renovated Four Points Cleveland Airport features 147 spacious guest rooms and 6,500 square feet of flexible, state-of-the-art meeting space. Amenities include an indoor heated pool, a 24-hour fitness center, a business center, and fast and free Wi-Fi throughout the hotel. Guests will enjoy full-service dining and the brand's iconic Best Brews and BBQ™, including refreshing local beers and seasonal BBQ-style appetizers at the hotel lounge. Four Points Cleveland Airport is convenient to Progressive Field, FirstEnergy Stadium (Home of the Cleveland Browns), the University of Cleveland and the shops, restaurants and entertainment in The Flats.
"We are thrilled to bring Four Points to Cleveland and anticipate the hotel will help meet rising demand for high-quality lodging in close proximity to the airport and downtown," said Paige Francis, Vice President, Global Brand Management, Four Points. "Four Points is consistently a top choice for owners and developers seeking to reposition existing assets, and conversions like these are a big contributor to the brand's growth in North America."
"Four Points Cleveland Airport will attract today's business and leisure traveler by providing them with stylish accommodations and a relaxing atmosphere," said Santos Galarza, General Manager, Four Points Cleveland Airport. "We will also offer guests a wide selection of local brews as part of the Best Brews program at the Four Points bar, which is the perfect spot to unwind at the end of the day."
Four Points is on track to expand its portfolio of rooms by nearly 60% in the next five years with new hotels strategically located in nearly every corner of the globe. There are more than 20 hotels expected to open in North America by the end of 2017 including Four Points Juneau; Four Points East Hartford; Four Points Fort Lauderdale Airport/Cruise Port; Four Points Miami Airport; Four Points Atlanta Airport West; Four Points Mt. Prospect; Four Points Peoria; Four Points Detroit Novi; Four Points Greensboro Airport; Four Points Charlotte – Lake Norman; Four Points Raleigh North; Four Points Cleveland Eastlake; Four Points Oklahoma City Airport; Four Points Spartanburg; Four Points Arlington; Four Points Houston Intercontinental Airport; Four Points McAllen; and Four Points Salt Lake City Airport.