Today United Airlines and Saks Fifth Avenue unveiled a United Polaris-themed takeover of the windows in the luxury retailer's flagship store on Fifth Avenue in New York City. Entitled "Now Arriving," the 14 storefront windows display a replica of a United Airlines plane. The center six windows feature a re-creation of the United Polaris experience, including actual United Polaris seats, which will debut on flights in February, and the cabin's custom Saks Fifth Avenue bedding suite.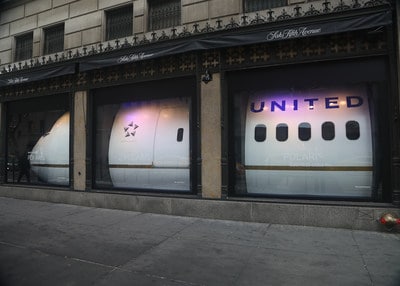 "We designed these windows to give passersby the feeling that they are actually walking through the luxurious United Polaris cabin," said Mark Briggs, executive vice president, creative, Saks Fifth Avenue. "The attention to detail throughout the installation is impressive, from the real United Polaris seats and Saks bedding to the United flight attendant uniforms and Saks' signature fashion represented by the season's top ready-to-wear resort looks."
United Polaris business class, the airline's most significant product transformation in more than a decade, features a reimagined, sleep-enhancing experience for intercontinental travelers. In rethinking the international business class experience, United conducted more than 12,000 hours of research, and sleep emerged as the single most important priority for international business class travelers. United Polaris' path-breaking design and sleep-enhancing focus were inspired and informed by insights from hundreds of customers and employees, inflight product simulations and more than 100 product evaluations.
In a first-of-its-kind relationship, United worked with Saks Fifth Avenue for custom bedding for both United Polaris lounges and on board. Designed to provide the best sleep in the sky, the new bedding collection features plush duvets, lightweight day-blankets and a large and small pillow for each United Polaris customer. In addition, mattress cushions are available upon request.
"High-quality pillows and bedding are crucial to a good night's sleep, which is why we turned to luxury department store Saks Fifth Avenue. Through our relationship with Saks, our passengers now have access to luxury, custom linens, pillows and blankets to help them relax and get the rest they need," said Mark Krolick, vice president, marketing at United.
The United Polaris themed windows will be on display until Jan. 22, 2017.