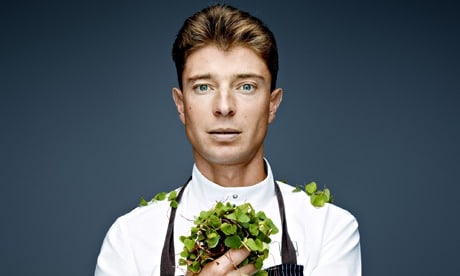 Over the next three months, Air France's Business class customers on board long-haul and medium-haul flights* on departure from Paris will be able to enjoy new dishes signed by Jean Sulpice.
Jean Sulpice, a two Michelin-starred chef in the Business cabin
To continue to surprise its customers while promoting its role of ambassador of fine French cuisine around the world, Air France is entrusting a dish on its Business class menu, which will be renewed every two weeks on medium-haul flights and two dishes renewed every month on long-haul flights, to Chef Jean Sulpice until March 2017. From a selection of six dishes, the two Michelin-starred chef celebrates nature with a wholesome, inventive and authentic subtle cuisine. On board Air France's Business cabins, Jean Sulpice creates light and fresh dishes by playing with different cooking techniques, flavours and textures while emphasizing the quality of the product.
Six dishes are on offer:
– Trout in a watercress dressing, corn polenta with watercress;
– Shoulder of lamb with a wild savory sauce, mashed potato and sucrine lettuce salad;
– Tender beef cheek braised in red wine and coriander sauce, creamed potatoes and chestnuts;
– Guinea fowl served with a caraway sauce and creamed parsnips;
– Cod fish fillet in a tangerine satay sauce, spinach with peanut;
– Mountain celery and lovage with comté cheese risotto.
Jean Sulpice, French gastronomy at the height of the summits
With two Michelin stars and an experienced Relais & Châteaux chef, Jean Sulpice is a pioneer of high altitude gastronomy. Located in Val Thorens, in the heart of the 3 Vallées ski resort, his restaurant peaks at over 2,300 metres in altitude! Following his training with Marc Veyrat among others, Jean Sulpice offers a unique experience in the heart of his native Savoy region. He showcases nature through a traditional local and straightforward cuisine, creating bursts of flavour with deceivingly simple produce. Local products, wild plants and herbs are a permanent source of inspiration offering the chef an immensely varied range of tastes and aromas.
After working for fifteen years in a mountainous setting, Chef Jean Sulpice with his wife Magali recently took over the reins of the restaurant Auberge du père Bise. Located on the banks of Annecy lake, the Auberge has long been a testament to the diversity of our culinary heritage. Jean Sulpice is thus continuing the tradition of this legendary establishment with his own personal signature. In winter and summer alike, he will continue to explore the culinary diversity of his native land with the same passion and creativity. Located in front of the lake and surrounded by mountains, Jean Sulpice will open his new Auberge du père Bise to the public in May 2017, following a last winter season in his restaurant in Val Thorens.
"A la Carte" dishes celebrating fine international cuisine
With the "A la Carte" dishes available on all the Company's long-haul** flights on departure from Paris-Charles de Gaulle, La Première and Business customers can enjoy more freedom and pleasure during their trip, on the theme of Asian delights or a seafood basket. Customers can pre-order one of the six dishes before their flight, at no extra charge –
– Thai cuisine,
– Traditional Chinese;
– Flavours of India;
– Japanese delights;
– A taste of Korea;
– Seafood basket.
Customers can book the dish of their choice between 90 days and 24 hours before flight departure. They can book the meal when purchasing their ticket or in the "Manage your bookings" section online at www.airfrance.com, at Air France ticket offices and call centres, or when they check in online or on their smartphone.
*Available on board medium-haul flights on departure from Paris – Algiers, Amman, Athens, Bucharest, Casablanca, Yerevan, Istanbul, Kiev, Lisbon, Moscow, Oran, Rabat, St Petersburg, Sofia, Stockholm, Tel Aviv, Tunis, Warsaw.
**Excluding flight AF022 Paris-Charles de Gaulle – New York-JFK.