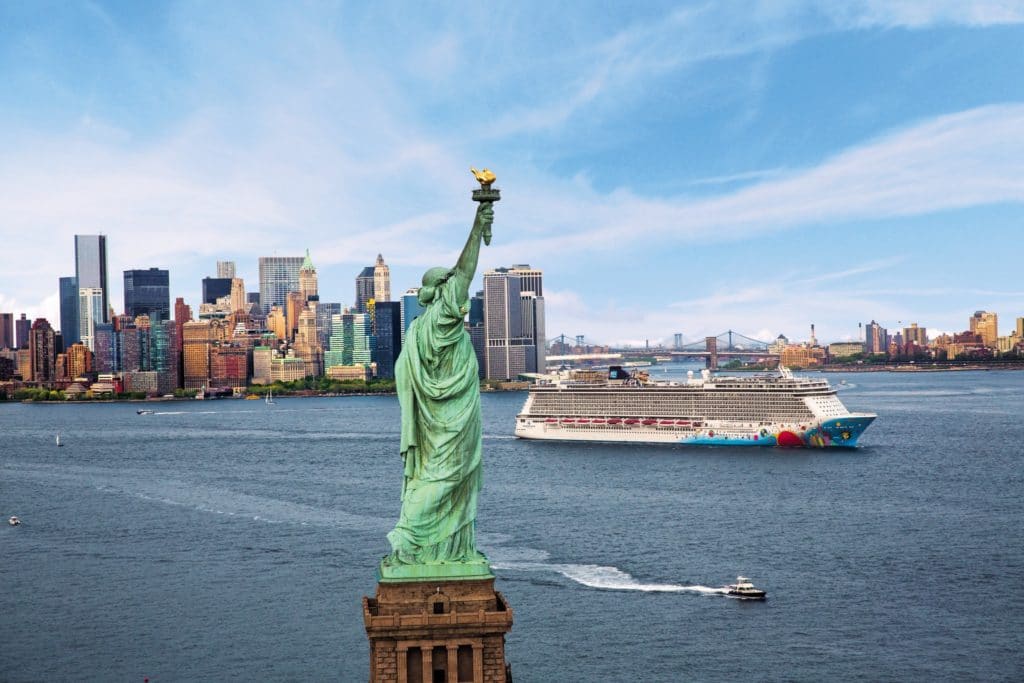 Norwegian Cruise Line has announced its ground-breaking summer 2017 deployment for Europe that, for the first time in company history, features five ships sailing in European waters in the summer season. Highlights of the new itineraries include cruises to the Baltic Capitals on Norwegian Getaway from Copenhagen and a first ever complete season from Hamburg on Norwegian Jade, with embarkation for those cruises also available in the UK and Amsterdam. In addition to the European sailings, Norwegian also revealed details on Norwegian Escape's 2017 summer cruises to the Caribbean from Miami.
Norwegian Cruise Line 2017
Norwegian will bring Norwegian Getaway, currently the second newest ship in the fleet, back to Europe for the first time since its delivery in 2014, giving guests the opportunity to experience the ultimate in freedom and flexibility on eight- or nine-night Baltic Capitals cruises from Copenhagen. This spectacular itinerary will allow guests to explore UNESCO World Heritage sites, take in the picturesque Baltic countryside and experience the unique history, cultures and architecture of these famed European cities. The itinerary includes calls in Tallinn, Estonia; Helsinki, Finland; Stockholm, Sweden; along with an overnight in St. Petersburg, Russia.
Marking the first time that Norwegian will homeport a ship in Hamburg, Germany, Norwegian Jade — one of the company's four Jewel-Class vessels — will feature brand new cruises from Hamburg in 2017. Following an extensive dry dock in spring 2017, she will arrive essentially a new ship featuring Norwegian's new standard of excellence the Norwegian Edge™ on May 14, 2017. Until October 9, 2017, guests can embark from Hamburg on a series of seven- and nine-day Western Europe cruises; nine- and ten-day Norwegian Fjords cruises; 12-day Norway & North Cape sailings; as well as a 14-day Norway, Iceland & UK cruise.
Norwegian will return to England for the first time since 2010 during summer 2017, as Norwegian Jade will call on Southampton during her cruises from Hamburg. From May 12 – June 20 and August 7 – October 16, 2017, guests can choose to embark from Southampton for either seven- and nine-day Western Europe cruises or nine- and ten-day Norwegian Fjords cruises. Guests can also choose to embark from Amsterdam, The Netherlands on select dates for seven-day Western Europe cruises, providing even more flexibility for guests looking to explore Europe pre- or post-cruise.
"With these exciting new summer European itineraries, we are offering our guests a wider variety of adventurous itineraries that span the continent, while also bringing one of our newest and most innovative ships to Europe", said Andy Stuart, president and chief operating officer of Norwegian Cruise Line.
Three further ships will sail European waters in 2017, including the recently refurbished Norwegian Epic with her popular seven-night Western Mediterranean itinerary, where guests can choose to depart from Barcelona, Civitavecchia (Rome) or Marseille; Norwegian Spirit sailing alternating 10- and 11-night Grand Mediterranean cruises between Barcelona and Venice; and Norwegian Star, which after her return from Australia, will spend the summer cruising from Venice to the Greek Isles as well as the Adriatic, Greece & Turkey.
Norwegian Escape, Norwegian's newest ship launched last October, will spend summer 2017 sailing alternating seven-night Eastern and Western Caribbean cruises year-round from Miami, starting on May6, 2017. The Eastern Caribbean itinerary includes stops in St. Thomas, U.S. Virgin Islands; Tortola, British Virgin Islands and Nassau, Bahamas, whereas the Western Caribbean cruises visit Roatán, Honduras; Norwegian's private destination Harvest Caye, Belize; Costa Maya, Mexico and Cozumel, Mexico.