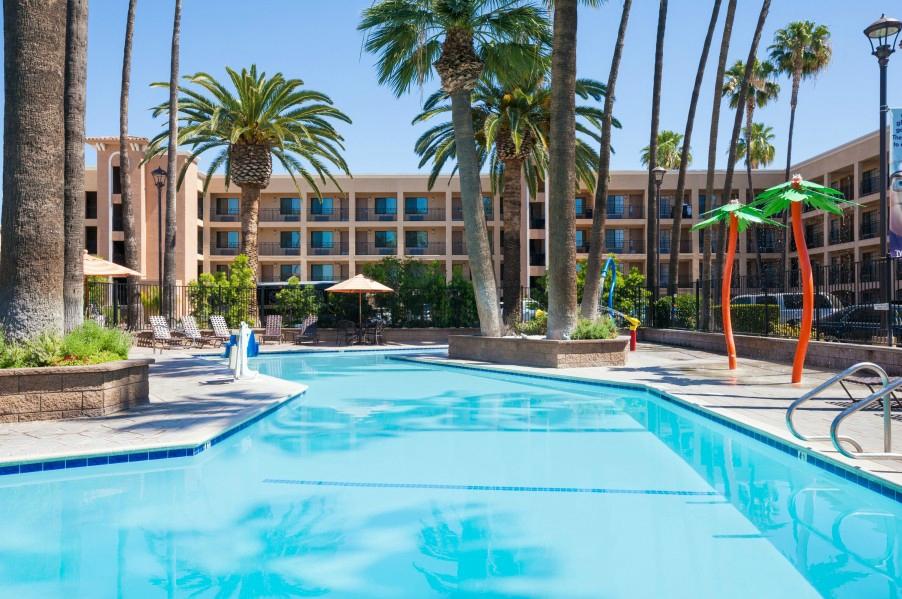 The Grand Legacy At The Park hotel will become Anaheim's latest independent hotel beginning February, 2016. The hotel, previously under the Ramada brand, operated as the Ramada Maingate At The Park for the past 17 years. The $10 million development and renovation make this hotel the latest star in Anaheim's evolving hotel inventory.
The Garr family has maintained ownership of this popular lodging location(directly across the street from Disneyland Park®) since 1974,and will remain owners of the newly minted Grand Legacy At The Park hotel.This latest development includes a new four-story hotel wing withluxurious guestrooms, spacious lobby, six retail outlets, cozy eating areas, meeting space and a distinctive rooftop bar area (set to open March 2016).Additionally, the existinghotel has undergone major renovationsduring the past three yearssubstantiallyenhancing its guestrooms and pool area.
"We've been in Anaheim since 1974 and I'm very proud of my family's hotel legacy here. I've grown up in Anaheim's close-knit hospitality industry and look forward to this next step in our growth," said Brandon Garr, Grand Legacy At The Park hotel owner. "We will continue to honor our family's heritage built on hospitality and now offer our guests more reasons to enjoy our new hotel with enhanced guest rooms, amenities and public spaces. We welcome Anaheim's visitors and our community to experience the area's latest independent hotel with a new view, the Grand Legacy At The Park."
The uniquefeaturesof thehotel'sgrowth include the addition of family suites and the 5,000 square foot rooftop bar and lounge, whichwill accommodate about 400 people, and willbe open during the day to the public. The massive space will appeal to families, young adults, tourists, and locals alike. This area will transform nightly into aspectacular rooftop bar and loungefeaturingmusic,up close views ofDisneyland's unforgettable firework show and Anaheim's skyline. This one-of-a-kindgathering place isdestined to become one of SoCal's hotspots.
In total, the property will feature family suites, a new lobby,indoor and outdoor meeting space, six retail shops including a mini mart, tickets and tours store, and pizza eatery, rooftop wedding and banquet space, and complimentary breakfast and WIFI with a new guest loyalty program.