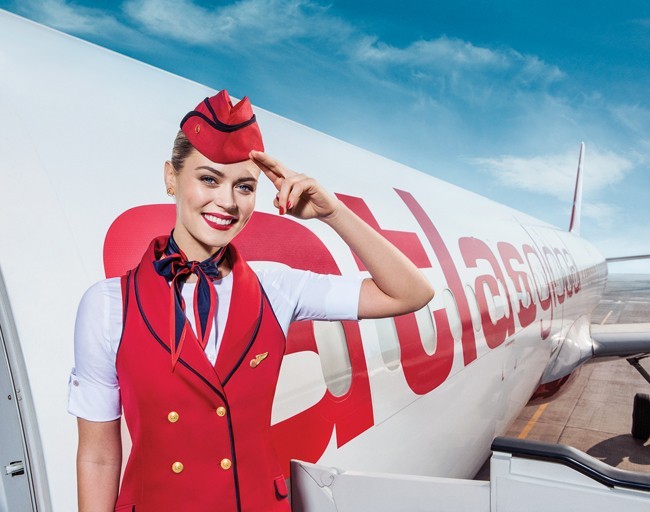 Atlasglobal Ukraine Airlines, a subsidiary of Istanbul based Atlasglobal, starts scheduled flights between Istanbul and 3 Ukrainian cities as of August 31, 2015. The three cities are Lviv, Kharkiv and Zaporizhia. One way flight in the EkonomiPlus class starts from US$84.
Atlasglobal Ukraine will fly to and from Istanbul Ataturk Airport (IST). Turkey's low cost carrier Pegasus also flies to Lviv (LWO) and Kharkiv (HRK) but from Istanbul's second airport Sabiha Gökçen International Airport on the Asian side of the city.
Atlasglobal Ukraine starts flights between Lviv and Istanbul from August 31. The Lviv – Istanbul flights will be 4 times in a week and on Monday, Wednesday, Friday and Sunday. The carrier will depart at 06.35 from Istanbul and return from Lviv at 12.45 on Mon., Wed., and Friday. Flight on Sunday departs Istanbul at 23.10 and departs from Lviv next day 02.15.
Flights between Kharkiv and Istanbul start from September 2nd. Flights depart Istanbul on Monday, Wednesday, Friday, and Sunday at 23.00 and return to Istanbul following days on Monday, Tuesday, Thursday, Saturday at 02.00.
Flights between Zaporizhia and Istanbul starts from September 1st. Flights will be on Tuesday, Thursday, Saturday, Sunday; depart from Istanbul at 06.35 and return from Zaporizhia at 12.55.
Passengers of Atlasglobal Ukraine will also enjoy same privileges of Atlasglobal's Turkey departure flights at EkonomiPlus class which include:
Check in and choose your seat online, all free of charge
Baggage allowance with EkonomiPlus is a generous 30 kg, with a further 8 kg permitted as hand baggage
Comfy leather seats have a spacious 77cm seat pitch
Tasty cakes and warm sandwiches are on offer with EkonomiPlus, free of charge and accompanied by a choice of 14 different beverages
Atlasglobal Ukraine passengers can also fly in Business Class. Passengers will enjoy comfy seats with 100cm seat pitch, a wide choice of menu options, baggage priority, baggage allowance of 40kg, VIP transfer from Istanbul Atatürk Terminal to the aircraft.