Hilton Worldwide has evolved its legendary offerings to meet the needs of mindful guests by reimagining its spa concept, eforea spa. With 22 eforea spa locations across the globe and 42 in the pipeline, eforea spa has developed three new treatment enhancements that embrace ancient healing methods and a refreshed treatment menu to compliment the changes to the concept's identity worldwide. A leader in spa and wellness, Hilton Worldwide has more than 400 spas currently open across the full global portfolio with another 119 in the pipeline.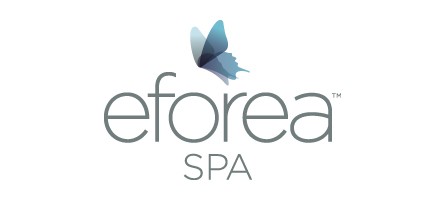 In addition to the new look and feel, starting this July, eforea spas around the world will be rolling out an updated treatment menu. The new menu includes three unique, carefully-crafted, short-duration Journey Enhancements – treatments packed with ancient healing methods plucked from some of the world's most fabled spa and health cultures. Master Therapist Sean Jordan, in collaboration with Hilton's wellness team and many eforea spa team members, developed these 25-minute mini-treatments, which spotlight regions of the body with condensed areas of nerve endings and tension. The first Journey Enhancement focuses on feet, the second concentrates on the head, face and shoulder, and the third is centered on the neck and scalp. These special treatments are commonly added to full duration services such as the Essentials and Escape Journeys or can be enjoyed individually for those who have limited time.
Guests can also continue to enjoy the two very popular Journey treatment options at eforea spas globally. The Essentials Journey is composed of powerful, technologically advanced treatments that are sought after in every part of the world. In addition, each eforea spa location will take a unique approach to a bespoke and localized Escape Journey offering, incorporating fresh and local ingredients, products and therapies. Some examples of Escape Journey treatments at eforea spas around the world include:
The Espresso Mud Body Detox at Hilton Short Hills, utilizing coffee bean, honey and Black Silt Clay to deliver a rejuvenating sensory journey.
The Georgian Corn & Salt Scrub with Vichy at the Hilton Batumi offers guests a powerful combination of manual exfoliation using local corn husks, salt and hot water.
"Our guests seek balance more than ever before and turn to us for the latest wellness solutions and methods," said Ryan Crabbe, senior director of global wellness, Hilton Worldwide. "With our re-inspired eforea spa concept, we take our team members and guests to an even deeper level of understanding of how wellness has the power to leave people feeling healthy and brighter."