Istanbul is waiting to greet you with streets steeped in history and brimming with mystique! As part of its mission to provide passengers with the best service possible, Turkish Airlines is proud to introduce yet another new service, Free City Tours.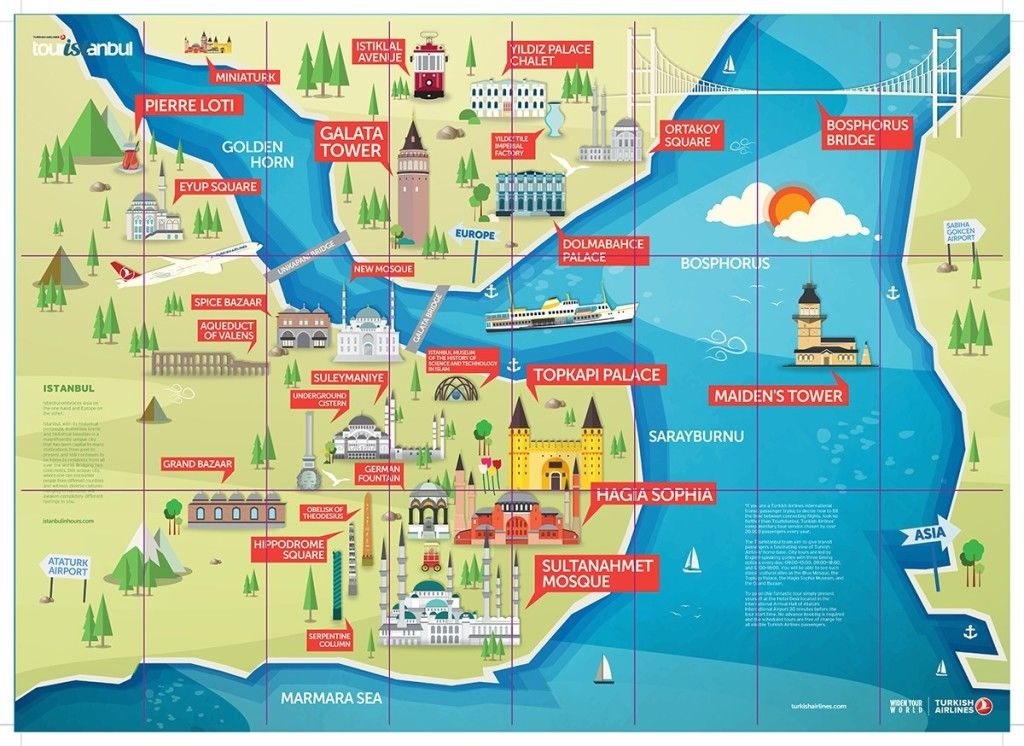 Passengers who arrive at our Istanbul station and are due to take a connecting flight on the same day can now choose between spending their waiting time relaxing in free daytime hotel accommodation or using our new service to enjoy a magnificent tour of Istanbul.
What you need to know about Touristanbul:
No pre-booking or reservation is required but passengers must not have already used the accommodation service provided by us during the same connecting flight.
Passengers must be traveling from one international location to another with a flight connection at Atatürk Airport. Both legs of the flight must be operated by Turkish Airlines.
Passengers must have a waiting period of no more than 24 hours at Atatürk Airport.
Connection times must be appropriate for our tour schedule: Passengers need to be at the Hotel Desk of the International Arrivals terminal 30 minutes before the start of the tour. Passengers will arrive back at the airport at the scheduled finish time of the tour. Passengers must ensure their flight departure time is at least one hour after the finish time of the tour.
Passengers who have already checked in for their ongoing flight must show their passport and boarding pass to the member of staff at the Hotel Desk.
Passengers are responsible for making their own visa arrangements for entry into Turkey and any related costs.
Passengers can find out the visa requirements and related costs for each nationality and passport type at www.evisa.gov.tr/en.
Tours accompanied by an English speaking guide take place from 09:00-15:00, 09:00-18:00 and 12:00-18:00 every day.
Free City Tours may be subject to changes due to traffic or weather conditions, public events and restoration programs which are in progress at museums and archaeological sites.
Tours include museums, historical sites and various religious establishments and for this reason passengers are not allowed to bring pets.
As passengers are allotted some free time during the tour, those aged under 18 must be accompanied by an adult companion.
The costs of meals (breakfast/lunch), transfers, entrance fees to museums and historical sites and the guided tour itself are met by us.
Passengers should take into account the fact that during the tour they will be required to walk at a medium pace and remain on their feet for long periods of time.
As this supplementary free service provided by Turkish Airlines is independent from the main contract of carriage and entirely optional, passengers who are unable to take advantage of Touristanbul due to flight delays, late application or other reasons cannot make a claim for compensation or any other demand.