Swarovski and Misfit have joined forces to create the world's first ever solar powered fitness and sleep tracker.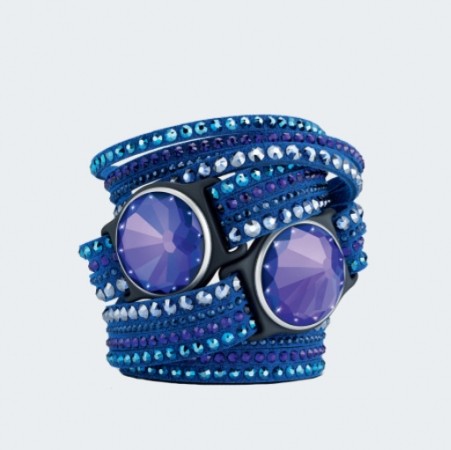 Two new, fully-waterproof wearables comprise the core of the Collection:
1) a clear Swarovski Shine with a brilliant crystal face
2) a violet Swarovski Shine which uses a patented "energy crystal" technology to allow for ecient solar charging on a small surface to power itself. T
he latter is the world's first wireless activity and sleep tracker that utilizes an energy harvesting technology to eliminate the need for charging or replaceable batteries. Users simply expose Swarovski Shine to light to keep it charged. Swarovski and Misfit Introduce World's First Solar-Powered Wearable Both designs feature a large faceted crystal integrated into Misfit's hardware, and automatically track steps, distance, calories burned, and sleep quality and duration.
The tracking device used in combination with the sport band is waterproof and suitable for swimming.