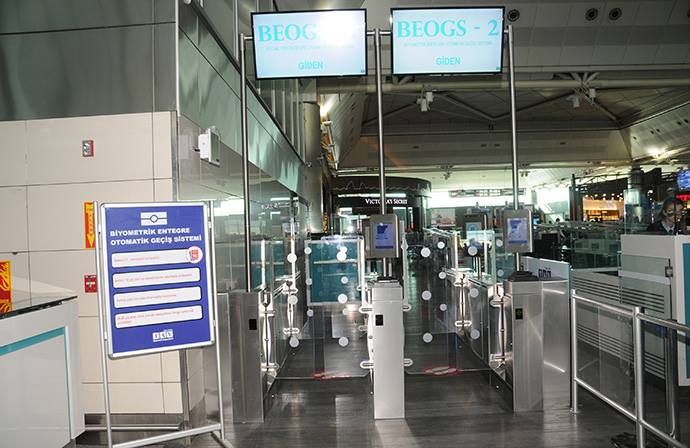 For providing speed at the international flights taking off from Turkey and saving human resources, "biometric pass" practice has started at Istanbul Atatürk Airport. The system has been introduced to the passengers at four passport control points, two of which are at international terminal arrivals floor and the other two at the international terminal departures floor.
TAV Istanbul General Manager Kemal Ünlü stated that they aim to satisfy the customers by facilitating passenger flow at the airport with the e-gate practice. Explaining that the new passport control system has been put into operation after 14 months of hard work following the approval of civil aviation and official authorities under the guidance of General Directorate of Security, Ünlü mentioned that they wanted to initiate this system at other airports after successfully completing the trial period.
During the preparation phase of the system, TAV IT provided the services like solution creation, technology selection, support during design phase and infrastructure cabling, etc. If the system which achieves passport controls by fingerprints becomes successful, 4 additional biometric cabinets will be placed both to international departures and also arrivals floors. The number of these cabinets is expected to reach to 12 at both departures and arrivals floors at the end of the year. The system is anticipated to solve problems of false passport usage and long queues and also the number of passport police forces will be minimized. Facial recognition will also be integrated to the system in the future. Firstly, TAV Passport Card Holders will benefit from the e-gate practice. The system lets the passenger pass through the cabinet in 21 seconds at maximum and the time is expected to decrease to 15 seconds when the system is got used to.
As well as biometric passage cabinets, passport police forces will also continue their operations.
The system aims to facilitate the functioning depending on human factor. There are examples of the project in the countries like Dubai, Spain, France and Holland.