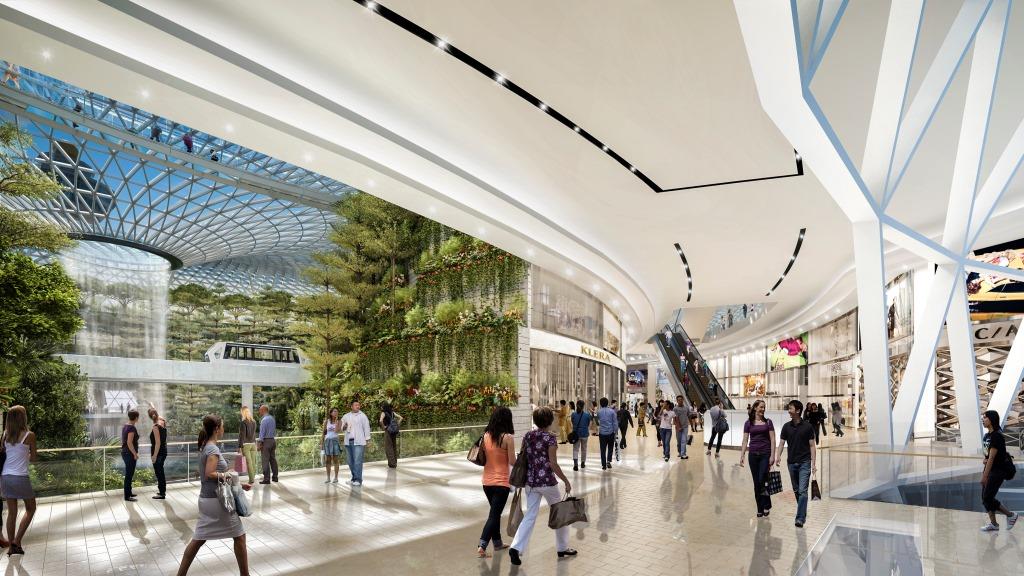 An indoor living forest of trees, plants, ferns and shrubs that spans five levels. The world's tallest indoor waterfall. Walking trails and gardens. These are among some of the features planned for the Jewel Changi Airport, a steel and glass biodome structure that will grace the Singapore skyline and raise the bar in luxury airports.
Last week, crews broke ground on the Jewel Changi Airport outside Terminal 1, a project that will turn what used to be an open-air parking lot into a sprawling, 134,000 sqm (1.4 million square feet) retail, travel and leisure complex spanning 10 floors — five underground floors and five levels above ground, sg.news reports.
The addition would widen the gap between the Changi Airport and its international rivals, already held at arm's length by the Singapore facility's variety of innovative features and amenities. Think movie theater, butterfly and orchid gardens, four-storey indoor slide and gaming entertainment deck.
Changi Airport owns bragging rights to having been named world's best airport nine times at the World Travel Awards and two years running at the Skytrax World Airport Awards.
The 'lifestyle' complex is not only meant to turn the airport into a Singaporean destination in and of itself, but it's also meant to help increase the airport's passenger handling capacity to 24 million passengers a year.
The Forest Valley and Gateway Gardens, for instance, will house an indoor collection of plants and trees across 22,000 square meters (236,806 square feet), with landscaping features that will include waterfalls and walking trails.
The centerpiece of the airport, meanwhile, will be the Rain Vortex, a 40-meter tall waterfall that will cascade through the core of the complex. Come nightfall, the water feature will illuminate in a light and sound show. The Rain Vortex is set to become the largest indoor waterfall in the world.
Other features will include walking trails, playgrounds, conservatories, dining outlets, and retail options that include high-end luxury brand names and home-grown brands. In a bid to strengthen the region as a cruise hub, the Jewel Changi Airport will house a lounge for fly-cruise and fly-coach passengers, offering services like ticketing, boarding passes and baggage transfer.
The terminal will also feature early check-in services, allowing passengers to check-in and deposit their bags hours before their flight so that they can take advantage of the facilities and amenities. Jewel will also be home to a 130-room YOTEL hotel.
The Jewel Changi Airport is scheduled for completion in 2018.