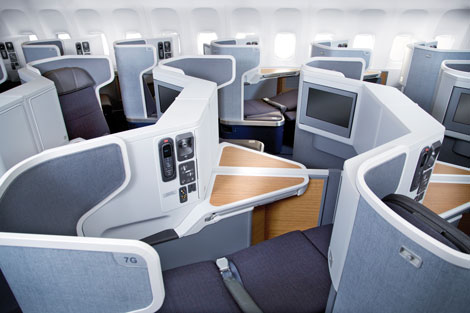 The very first Air France Boeing 777 equipped with the new Business, Premium Economy and Economy cabins will make its inaugural flight tomorrow to New York! Let's take a look at the assembly…
Each class of service has new perks and features. The Economy cabin's new seats are thinner and lighter than previous models (reducing up to 1,000 pounds on each plane), and each comes with a nine-inch personal flat-screen TV as well as an electrical socket for charging personal devices.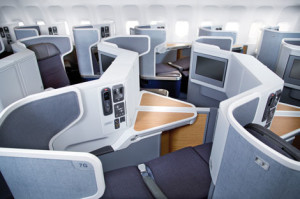 The Premium Economy seats have hard shells as well as 40 percent more space than the economy seats. They have 12-inch screens and footrests.
The Business Class seats, which were unveiled in February, are set up in a 1-2-1 configuration so that they all have aisle access, as well as privacy screens. The seats fold out to become fully flat beds that are 77 inches long and 27 inches wide with real duvets. For entertainment, passengers get 16-inch screens and noise-canceling headphones.
Then there's the new La Première suite, which is set to roll out on 19 Air France Boeing 777-300 planes from September. The seats stretch out into a flatbed that is more than six feet long with a mattress installed by the flight attendants.
In total, 44 Boeing 777 planes will get almost 10,000 Economy seats, more than 1,100 Premium Economy seats and 2,102 new Business class seats. By the end of the year, the new cabins will be used on flights to Singapore, Jakarta, Tokyo-Haneda, Houston and Shanghai. Douala, Dubai and Sao Paulo will follow early 2015.
The Group has reportedly invested 700 million euros in new cabins, including 500 million for Air France and 200 million for KLM, Juniac said at the conference, and expects to invest more than one billion by 2017 to upgrade both airlines' Airbus A330 and Air France's A380 planes.
The new Air France cabins are being deployed on 44 Boeing 777 up to 2016. This summer, KLM is offering its new World Business Class on 22 Boeing 747. In September 2015, all of its Boeing 777-200 and 300 will offer this cabin.
The group will add 100 Boeing 787 to its fleet at the end of 2015 and the first Airbus A350 in 2018. The aircraft will be equipped with completely new cabins.