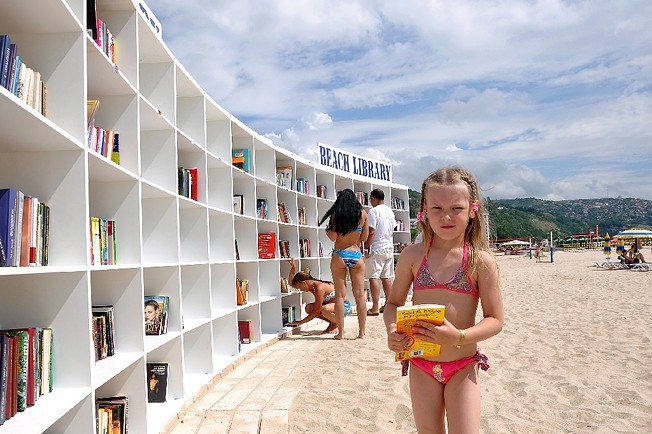 The first beach e-library in Middle East at the Families' Corniche in Abu Dhabi was opened. The e-library was established by the Ministry of Culture, Youth and Community Development, in collaboration with the Municipality of Abu Dhabi City to be a distinctive feature of Abu Dhabi beaches and provide beach-goers, including citizens and expats, with the opportunity to assimilate knowledge and culture.
The beach library has four desktop computers and 14 iPads that are available to search the collections.

The e-library includes a huge database of books and the latest versions of more than 70,000 titles spanning all fields of knowledge, including electronic magazines and journals. The library has a large collection of books and references in both Arabic and English, and boasts of more than 1,500 books, which makes it easier for foreign tourists to have exposure to the heritage of the UAE, its history and great figures, as well as its deeply-rooted values ​​& traditions.
The Emirati collection has a number of coffee table books on the life and times of the founder of the UAE, Sheikh Zayed, the President, Sheikh Khalifa, and Sheikh Mohammed bin Rashid, Vice President and Ruler of Dubai, by the UAE photographer Noor Ali Rashid.
The general collection has a selection of autobiographies, literary fiction, culture and history books, children's books, dictionaries, encyclopaedias and cookbooks.
Among them were Nelson Mandela's Long Walk to Freedom, Paulo Coelho's The Alchemist and the 2006 memoir of Elizabeth Gilbert, Eat, Pray, Love.