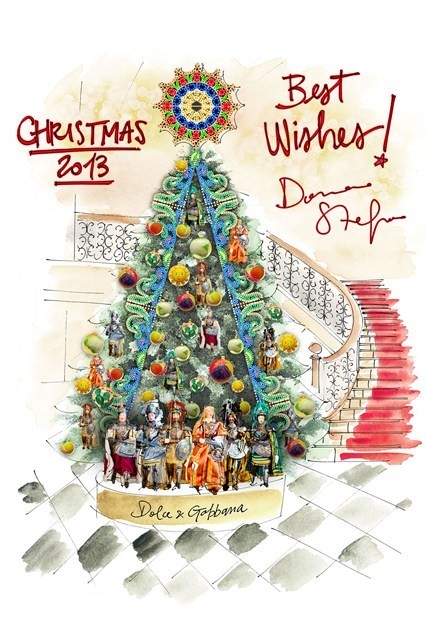 DOMENICO DOLCE and Stefano Gabbana have been chosen by Claridge's to design its 2013 Christmas tree, and we can expect a Sicilian-inspired spectacle.
Taking traditional Christmas tree elements, the designers plan to bring their heritage Italian aesthetic to W1, using handmade Sicilian puppets, festive glasses baubles and the colours of southern Italy.
"We are delighted to welcome Domenico Dolce and Stefano Gabbana to spread their special Christmas magic in our lobby this year," said Thomas Kochs, Claridge's general manager. "Both Claridge's and Dolce & Gabbana are synonymous with timeless glamour, innovative spirit and traditional family values that are so important at this time of year."
For Dolce and Gabbana, it is a chance to celebrate their Italian roots: "Our Christmas tree isn't only a celebration of Christmas as we celebrate it in Italy, but it's also a tribute to the artisanal Italian tradition, the same that we love to export worldwide with everything we do," said the duo. "When we think of London, we always think of Claridge's and its typically English atmosphere, which fascinates us and makes us fall in love with the city every time as if it were the first."
This the fourth year that the luxury Mayfair hotel has collaborated with a fashion house to collaborate its Christmas tree. Dolce & Gabbana follows in the footsteps of John Galliano and Lanvin's Alber Elbaz.
The tree will be unveiled on November 26.
Source: vogue.co.uk