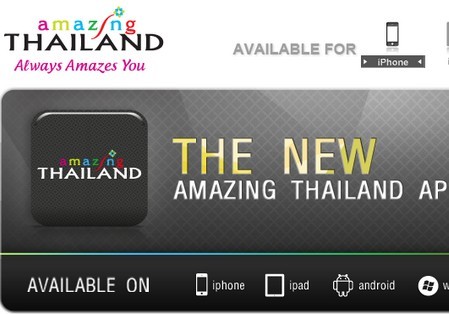 The Tourism Authority of Thailand (TAT) is taking its Lifestyle Thailand Mobile App to a greater height in the second year with a new fresh look, with the latest updates from over 300 participating tourism businesses and more experiential travel ideas.
The mobile app, which has been launched since July 2012 for downloading free of charge on the App Store and Android Market, has so far received more than 50,000 downloads.
Mrs. Juthaporn Rerngonasa, TAT's Deputy Governor for International Marketing of Europe, Africa, the Middle East and the Americas, said that in line with the TAT's digital marketing strategy, the Lifestyle Thailand mobile app 2.0 had been enhanced in its second year to meet the ever-changing demand from the savvy smartphone users looking for new travel ideas in Thailand on online platforms.
"The total download of the Lifestyle Thailand mobile app is expected to increase to 100,000 downloads in the second year," she said.
TAT has not only refreshed the overall design of the Lifestyle Thailand mobile app 2.0, but has also enhanced information updates on hotels, resorts, restaurants, tourist attractions and activities. The app is aimed at enticing tourists by attractive images and detailed descriptions of tourist products and activities, and enables the app users to create their own exclusive trip in Thailand.
Mrs. Juthaporn said, "We will introduce the new fresh look of the Lifestyle Thailand mobile app 2.0 at the World Travel Market (WTM) 2013 from 4 to 7 November as well as promote it through the TAT's offices worldwide and the Thailand Fan Club, a TAT twitter account with more than 150,000 followers."
The Lifestyle Thailand mobile app features 10 travel experience ideas that cater to different tourist preferences including Chic for trendy jetsetters looking for shopping experiences and nightlife activities, Romantic for couples and honeymooners, Breezy for beach lovers, Thainess for devotees of Thai traditions, Adventure for travellers preferring adventure and sports activities, Wellness for health and beauty conscious tourists, Easy n' Slow for those looking for a quiet place amid the lush nature of Thailand, and Family ideas that highlights family-orientated activities and locations.
The Chic option also lists exclusive services to better serve trendy jetsetters, including personal stylists and hands-free shopping services as well as luxury transportation services in a private jet or limousine.
In addition, the Thainess travel experience on the Lifestyle Thailand mobile app has been enhanced, and is now featuring three more unique travel experience ideas – Discover the other you, Festivals and Celebrations, and Not to Miss.
The Discover the other you option takes travellers to experience genuine Thai lifestyles with activities; such as, Thai cooking class, Thai boxing class, Thai classical dance class, Thai rice farming class and Thai massage class. Travellers will be able to choose their preferred activities and contact the service providers directly using details provided on the Lifestyle Thailand mobile app.
The Festivals and Celebrations option features information and imagery from various festivals and celebrations in Thailand with unique features; such as, Loi Krathong, Yi Peng and Songkran while the Not to Miss option highlights special travel activities of the moment; such as, during October – December will be the time to enjoy the International Balloon Festival and the New Year Countdown.
The app will feature travel information and offers from more than 300 tourism businesses including accommodation, restaurants, attractions and things-to-do lists in Thailand that are assigned into 10 travel experience ideas as well as special functions; such as, a 360° Visual Tour of tourist attractions. Tourists can also create trips and search routes via Google Maps and use interactive maps to share through social networks like Facebook and Twitter.