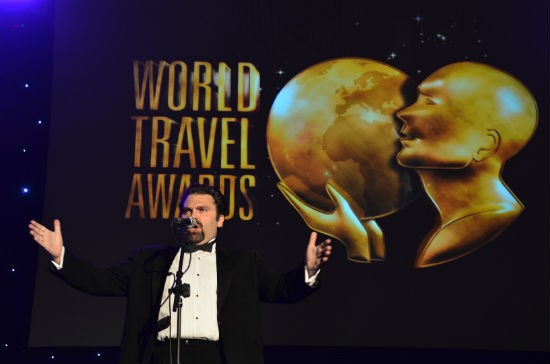 The industry's elite, including senior executives of leading travel companies, government ministers and top tourism decision-makers, attended the gala event hailed as "The Oscars of the Travel Industry". World Travel Awards celebrates its 20th Anniversary this year and is acknowledged across the globe as the ultimate travel accolade, celebrating those companies and organisations that are pushing the boundaries of industry excellence in product and service.
Hilton was one of the shining stars on the night, capturing Leading Hotel awards Europe-wide. Other Award winners from across the region were Forte Village Resort Sardinia as Europe's Leading Resort. Waldorf Astoria Berlin was voted Europe's Leading New Hotel and Angels Peninsular Turkey gathered Europe's Leading Family Resort. Leading European Destination went to Yorkshire, the northern county of the UK, whilst Europe's Leading Golf Destination was perhaps less surprisingly taken by Portugal. Kuoni was awarded Europe's Leading Destination Management Organisation whilst in the airline world Zurich Airport took top honours as Europe's Leading Airport, Lufthansa again was voted Europe's Leading Airline whilst Europe's Leading Low-Cost Airline went to easyJet. Gala Ceremony host Cornelia Diamond Resort & Spa took two top awards for Europe's Leading Fully Integrated Resort and Europe's Leading Luxury Golf Resort & Spa, whilst sister resort Cornelia Deluxe were voted Turkey's Leading Golf Resort.
On the water, Norwegian Cruise Lines sailed off with Europe's Leading Cruise Line, and DFDS Seaways were again Europe's Leading Ferry Company, while Radisson Royal Moscow scooped 3 awards including Europe's Leading MICE Hotel. Turkey's Mardan Palace took three coveted awards, Europe's Leading Spa Resort, Europe's Leading Luxury Hotel and Turkey's Leading Spa Resort.
Not to be outdone, Concorde De Luxe Resort took home Europe's Leading All Inclusive Resort, Turkey's Leading Family Resort and Turkey's Leading All Inclusive Resort. Gardens of Babylon were awarded Turkey's Leading Wellness Resort. With so many Turkish Hotels and Resorts taking top awards, it is not surprising Europe's Leading Tourist Board went to Turkish Culture and Tourism.
Graham E Cooke, President and Founder, World Travel Awards said: "Europe is a fiercely contested region for our World Travel Awards, and Turkey continues to serve all markets with luxurious brands offering unique hospitality products and services as well as all inclusive opportunities for the leisure traveller. It continues to raise the bar to constantly improve the standards of excellence in travel and tourism and it has been an honour and a real pleasure to hold our Europe ceremony in Antalya."