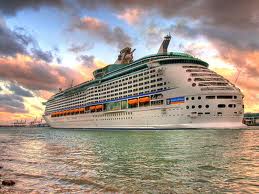 Royal Caribbean International plans to spend $70 million to build a new cruise terminal at Cape Liberty in Bayonne, N.J., to open in October 2014. The plans were approved this week by the Port Authority of New York and New Jersey.
The new cruise terminal includes a 36,000-square-foot check-in terminal, a 60,000-square-foot luggage area, a parking deck, additional parking and berth improvements. Construction is scheduled to begin this summer.
Cape Liberty is home to Royal Caribbean's Explorer of the Seas and Celebrity Cruises' Summit. It also will become the homeport for Royal Caribbean's new 158,000-ton, 4,100-passenger Quantum of the Seas, scheduled to enter service in November 2014.
"The cruise industry is one of this region's most rapidly growing markets, and this private sector investment will enhance our ability to generate significant revenues from the waterfront property we own," said Port Authority Chairman David Samson. "With the region's largest vessel scheduled to dock at this port facility, we will be able to grow the jobs and economic activity that the cruise business has generated for this region for many decades."
Passenger volumes at the Cape Liberty Cruise Terminal have grown steadily in the past three years, from 393,000 passengers in 2010 to 476,000 in 2012. Passenger volume is expected to grow to about 600,000 after the new terminal opens.
Source: travelpulse.com